I like to think I'm what you would call a "Foodie". I like trying new restaurants from a hole in the wall diner to James Beard award winning cuisine. I've made it my mission to try new and up-and-coming places around Indianapolis, which is why I wanted to share with you a list of 15 Indianapolis restaurants in 2015 that deserve props.
1. $$ Napolese– Owned by Indianapolis restaurant mogul Martha Hoover, Napolese boasts Artisan pizza at an affordable rate. Here's the deal… I lived in Italy for a summer, so I know pizza. No pizza in the city of Indianapolis and a majority of the Midwest has come close to tasting like the true Italian pizza I know and love except Napolese. With 3 locations downtown, SoBro and Carmel, you have no excuse not to try. Add the double chop salad as a starter to make your meal even better.
2. $$ Good Morning Mama's– You've probably at least heard of their sister and neighboring restaurant Mama Carolla's (also fantastic, but get your date to buy your meal). Good Morning Mama's is a brunch-only diner that has a 50's tropical vibe to it. Delicious omelets and other breakfast foods, you can't go wrong with this Sunday-morning hangover cure.
3. $$$$ Mesh on Mass – Mesh is a delicious restaurant great for a celebration, work occasion or a date. Mesh defines their food as "innovative, contemporary comfort" and prides itself on buying local, farm-fresh ingredients. It's counterpart Bru Burger (just down the street) is also a great local spot to check out. Mesh has a great vibe, excellent service, and I highly recommend the steak frites.
4. $$ Brugge Brasserie – Situated in Broad Ripple near the Monon, Brugge is considered to be Belgian food. But lemme tell ya, I've been to Belgium and their pommes frites are crap in comparison. Brugge is delicious and definitely worth a look if you're interested in steak, fries, mussels or life.
5. $$$ Zest! Exciting Food Creations – I've probably tried at least a hundred hamburgers in my life. Pretzel buns, peanut butter burgers, an unfortunate incident with grilled cheese on either side, but I can honestly say I've never had a burger so good as Zest's 3 napkin burger. Bacon, blue cheese, BBQ and brioche. Like what more do you need people? Oh a pairing of truffle fries because it wouldn't be complete otherwise!
6. $ The Steer In – Never heard of it? That's because it's an eastside secret. Located at 10th and Emerson, this drive-in turned diner has been around for more than 50 years. I grew up sitting at those lycra countertops noshing on pancakes or breaded tenderloins. It's been voted best tenderloin two years running so check it out
7. $$ Iaria's – Feeling Italian? Another family-owned classic near Fountain Square is Iaria's Restaurant. Famous for their meatballs and gigantic helpings of lasagna, Iaria's boasts a vintage-inspired, family atmosphere. And their veal marsala is to die for.
8. $$ Bakersfield – A Massachusett's Avenue bar (with easily the best margarita's in the city- trust me, I don't like tequila and even I love Bakersfield margs) also serves tacos. You better order at least three because you're not going to be able to get enough. Great atmosphere and a fun place to meet up with friends.
9. $$$ Santorini's Greek Kitchen – I tried this gem for the first time a week or so ago, and I fell in love. Not only do they give you enough food for your meal + 3 more, they have some great entertainment to accompany the food! Excellent home style Greek food in a very welcoming, boisterous and completely Greek environment.
10. $$ New Bethel Ordinary – Situated in Wanamaker on the Southeast side of Indianapolis, this pitcher-and-a-pie type restaurant boasts pizza you need a fork to eat. Not quite deep dish but toppings galore and worth every penny. You eat more than two slices, and you're going to be full for a week.
11. $ Yats – Feeling like some classic Cajun at a great low price? Check out one of Yats 13 locations across Indiana. This Cajun-Creole restaurant has a rotating menu written up on a chalkboard that reflects New Orleans influences. It's cheap, it's fast, and it's absolutely delicious.
12. $$ Yolk – Breakfast is my favorite meal of the day. When I heard Yolk was coming to The Alexander, I was pretty excited to try this Chicago-based restaurant, and it did not disappoint! Open for brunch daily, Yolk has some of the best scrambles and eggs benedict to date. Plus the bacon helps the cause.
13. $$ Black Acre Brewery – Situated in Irvington, Black Acre serves as both brewery and local restaurant. Cyberprops source Anna Frick claims their turkey Panini is out of this world and don't forget the garlic aioli dip with the brew fries! The local beer doesn't hurt either.
14. $$$ Ambrosia– Italian restaurant situated in South Broad Ripple, Ambrosia boasts fine Italian dining. They're the closest to the real thing you can get, in my opinion. While it comes at a cost, you won't be disappointed with the outcome! Make sure to get the bruschetta appetizer- it's divine!
15. $$$$ St. Elmo's Steakhouse – Okay, you can't deny it. It may be expensive, but you've never had a better shrimp cocktail and steak combo in your life. It just doesn't get much better than this! To save a little money, check out St. Elmo's on Sundays for lunch. They keep their Devour Downtown menu all year long for Sunday lunch. Three courses for $30 ain't half bad!
Honorable Mention for the Dessert and Cocktails alone:
16. $$ Hotel Tango– This fountain square distillery makes their own vodka, gin, rum and the bourbon is aging as we speak. Their drinks are potent and delicious! The Moscow Mule was perfectly mixed and made me want to put my pinky in the air.
17. $ Graeters Ice Cream – yes, yes it's an Ohio staple. But I've never been more excited as learning Graeters was coming to Indiana! At 56th and Illinois, this small ice cream parlor boasts big flavors. The chunks of chocolate in your ice cream help too!
18. $ The Flying Cupcake – Three locations for cupcakes in the city. Who doesn't love cupcakes? The cute décor and tasty treats are worth a stop!
19. $$$$ Ocean Prime – It's a steakhouse with great flavors, but I have to say, the Black Orchid Martini was hands down the coolest drink I've ever had. THERE WAS A FLOWER FROZEN IN MY ICE. Need I say more?
20. $$ Hopcat – 120 beers on tap at this Broad Ripple bar. No more explanation needed.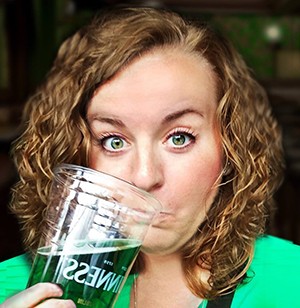 Latest posts by Emily Oskay
(see all)