Halloween. For most kids my age, Halloween means vodka-infused pumpkin spiced lattes, dressing up like sluts, and getting wasted beyond remembrance. For me, however, Halloween involves a much more sacred tradition: Watching Hocus Pocus. If you haven't seen Hocus Pocus, by all means stop reading this article, speed responsibly to your local Redbox and watch it immediately. If you have seen it, you'll most certainly understand the "8 Reasons Why You Should Drop All Your Halloween Plans and Just Watch Hocus Pocus."
---
1. Because you'd rather watch Hocus Pocus than some stupid horror movie.
Horror movies have their place. Many people enjoy watching young, beautiful people make stupid, irrational decisions in the face of insurmountable and horrific danger, a la virtually every horror movie ever created. But for those few times around Halloween during which you don't want to scream in terror, weep in shock, or wet yourself in panic, you have fun, topical movies like Casper Meets Wendy and Hocus Pocus. And, since no one including Hilary Duff herself feels the need to watch Casper Meets Wendy again, you really just have Hocus Pocus.
---
2. Because Bette Midler is the better than any Halloween date.
You know Bette Midler from that song, "From A Distance," and the movie The First Wives Club. Actually, scratch that. Your mom knows Bette Midler from that song, "From A Distance," and the movie The First Wives Club. You know Bette Midler from Hocus Pocus, and she put a spell on you as Sanderson sister, Winifred. Those teeth, that crazy lipstick, the way she says "vook" instead of "book," that song cameo mid-film that really lightens the mood, and her ability to shoot the best sparks 1993 computer graphics could create out of her hands make her the best witch to bless the silver screen in cinematic history. Would you rather spend your evening with anyone else?
---
3. Because where else are you going to see a talking cat as awesome as Binx?
Homeward Bound 1-7, Sabrina the Teenage Witch, and that movie Cats and Dogs all featured talking cats. But Hocus Pocus did it first, and they did it best. I know I wasn't the only one who, after watching Hocus Pocus on repeat as a 4-year-old, spent the rest of his childhood (and part of his adolescence) convinced that cats could actually talk. 
---
4. Because there's no better vocabulary lesson than this film.
"Yabos."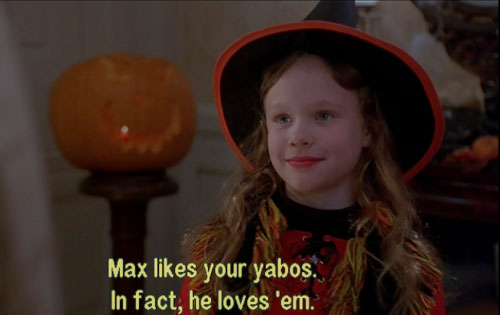 "Amuck."
"Buffoon"
---
5. Because your first childhood crush came from this movie.
Boys and budding lesbians, you know you thought Alison's yabos were great, too.  That, or you were into Sarah Jessica Parker.
Girls and gay boys, you know you had a crush on Thackery Binx or Max Denison. 
---
6. Because you can watch stars before they became stars.
Sarah Jessica Parker, Thora Birch, that guy that played Thackery Binks who is now in NCIS, and even the director of High School Musical got their starts on Hocus Pocus.
---
7. Because you'd rather relive these iconic moments that are burned into your consciousness than watch slutty girls and stupid guys makes fools out of themselves. (Perhaps not, but just go with me on this one…)
---
8.  Because you can experience all of these best parts of Halloween from the comfort of your couch with wine and left over candy from your trick-or-treat stash in hand. (Read: #Perfection)
Magical Witches.
Trick-or-Treaters.
Black Cats.
And even those girls dressed in slutty costumes. 
---
And those are the "8 Reasons Why You Should Drop All Your Halloween Plans and Just Watch Hocus Pocus."  At least, those are the 8 I narrowed my long list down to.  Props to you, Hocus Pocus, for being the best Halloween movie that defined my childhood and for giving me so many wonderful reasons to watch you.  
…Now, excuse me. I have a movie to watch.
Latest posts by Brendan Nusbaum
(see all)