As this year's freshman are making their way to the Big 10 and beyond, we older, wiser, smarter women of CyberProps (read, we've made every single mistake you can possibly make) wanted to pass on 15 pieces of wisdom for freshman girls stepping foot onto campus for the first time so they don't become freshmeat. Below are a few tips, tricks and props to going back to school:
Make friends with your dorm mates. They may be the only ones to help you if you are stuck outside without your key in the pouring rain after a walk of shame.

Always, always remember: elevated surfaces and stilettos are not your friend.

Props to unlimited meal points and swipes. Enjoy the times with your friends in the mess halls. Looking back, it's some of the best times we've had (soberly). The next 3 years will be filled with shitty house food or ramen, so enjoy it while you can.

Make nice with your professors. That way, when you've slept through too many classes and you've exceeded your allotted absences for the semester, you can use your wit and charm to avoid your grade being lowered. And by make nice, we mean talk to them, but hey we're not here to judge.

Props to the express bus, the tower acres, whatever your fastest bus was called. You slept in 20 minutes late and you have an exam on the third floor of the farthest building on campus and you somehow manage to make it in time for the tests being passed out.

Don't waste your money on textbooks. If you really need something from the book (which you won't), there are ways to get it: library, photocopies, friends, sharing with classmates. Instead use the money for making memories, or for losing them depending on how much alcohol you buy with it.

Parties are fun, flipping burgers are not. Don't forget about your grades. A 4.0 freshman year will carry you through your next 3-5 years of college. We promise. It's a fact.

Do not graduate early! Even if you can cut out a semester with extra classes, DON'T! The time in college is precious and we all wish we could go back to the easier, simpler, inebriated at 11AM times.

Do not end up on the list serve (house email) of a fraternity. Naked, drunk, puking, whatever it might be, keep it classy or the whole house will remember who you are.

Props to the first time you take too many Jell-O Shots and puke out of the second story of a fraternity house. Lesson learned, Skol and Jell-O are a deadly combination (see #9).

Pro Tip: Avoid asian drivers when walking around campus. They seem to like to drive through buildings.
Join clubs, beef up that resume. Whether it's a sorority, intramurals, a professional organization or even the Anime Club, experience, leadership and social skills are valuable assets to put you ahead of those midnight dorm-room gamers seeking the same internships and jobs as you whether your grades reflect that or not.

Never turn down a party. Well…. we shouldn't go that far because you could end up in a creepy fraternity basement with midgets costumed as oompa loompas and people screaming at you to Willy their Wonka… But live it up! Make all the mistakes that aren't socially acceptable in the real world!
Speaking of fraternity parties and parties in general, props to Sober Drivers. Nothing is better than a pledge picking you up from a house so you don't have to make that trek in 5 inch spike heels across campus. Thank you, gents, you shall be rewarded in kind over the next 4 years I'm sure.

BE HAPPY. In your major, in your friend group, in your living situation, in your classes, in your social life. College is too short. It only lasts four (to six) years, so make the most of it. Every single day. Because you've got 4 girls here writing this who wish they could go back for just a week to escape reality.

PEACE.LOVE.PROPS.
If you have a funny college prop or piece of advice to share, download the CyberProps app and gives props to +college!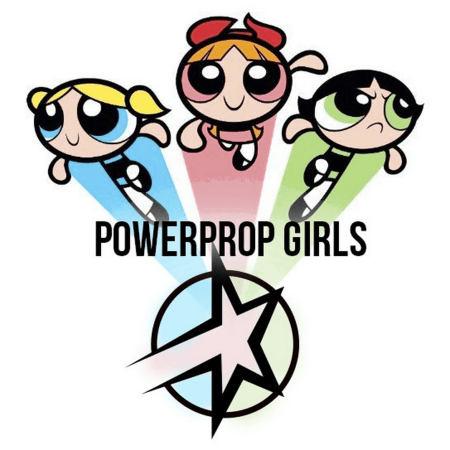 Latest posts by PowerProp Girls
(see all)