Famous athletes have to sign hundreds of thousands of autographs during their career. Easily a thousand footballs, jerseys, and pictures of themselves every single year. You would think that for all these charity events, auctions and fans, it has to get tiring signing your John Hancock over and over again. I know I would hate being interrupted at dinner, constantly badgered for my photo or have someone emailing me continuously asking me for donations.
But that one signature is so incredibly valuable to a community. Have you ever thought about that before? From the autographing of a jersey to sell at a $1000 plate dinner to signing a football for a church charity event, that signature makes a difference in people's lives. It builds a community. Something as simple as a name in illegible chicken scratch (Did I mention I'm really good at forging signatures?), can change a person's life forever.
I have one such example. In the early 2000's, my uncle went to a raffle at our church and bid on a signed autograph of Peyton Manning for $75. Peyton was still young in his career, maybe two years in with the Colts (around 2000), and the picture wasn't even that good. He was in his practice gear and I'm not entirely sure the picture was even in a frame. But that $75 my uncle spent went to buy uniforms for my grade school's football team. A simple thing right? Who knew that one of those little Rams would don that new sponsored jersey every week and would develop a passion for football? Who knew that signature would become invaluable for one of those 11 year old's futures? Who knew that a donation for a jersey would be a small stepping stone in leading one of those players to the NFL?
One of those little Rams was Indianapolis Colt tight end Jack Doyle. And who would have thought that a signature from a famous athlete all those years ago that he recently faced off against in an NFL match-up played a small part in leading him to the NFL. So props to all the athletes who recognize that they are role models within a community. Props to the athletes who take time out of their already insanely busy lives to give back, and props to that simple signature that raises money to build communities all over the world.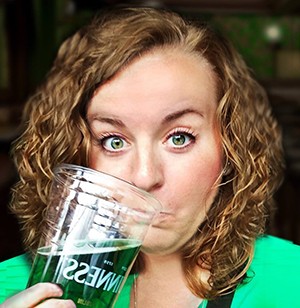 Latest posts by Emily Oskay
(see all)