Today I want to give props to a time honored Purdue tradition. I'm giving my props to Breakfast Club. Many of you are probably thinking of the 80's detention circle at this point, and while I don't hate it and I give props to that too, I'm talking about Purdue's tradition of dressing up in ridiculous costumes at 7AM and going to the bars to line up and drink for hours on end to forget the suffering that is Purdue football. Hey, if we can't win, we might as well have some fun along the way. Breakfast club is Halloween on every home football game and coordinating with friends to make an epic group costume (see Mario kart). It's waking up, or staying up, at 5AM, donning your Toy Story Gear, your Top Gun jumpsuit or your 3 Blind Mice and pregaming your heart away because the bars don't open until 7AM. Travesty. We may not be able to make it to our 7:30AM classes, but you better believe we can make it to a 7AM bar opening.
Here is the day in the life of a breakfast clubber:
11PM [the night before]: "Are you going to breakfast club?" Duh, see you there! "Are you go to the game?" Absolutely not.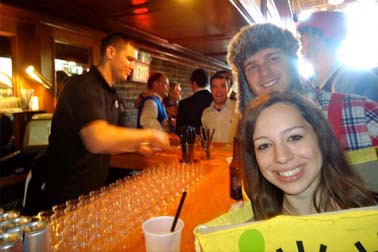 5AM: Get your ass out of bed, IT'S TIME!
5:15AM: Pregaming begins. Preferably screwdrivers with a side of pancakes but will also accept toast.
6:30AM: Make yourself a to-go drink, it's time to go get in line.
7AM: Brothers is open! Find yourself an area on the second floor, preferably close to your lovely neighbors, the Delta Chis, because you know they're going to buy a hundo.
8:45AM: A DChi shouts, "It's time." And you immediately move to the bar because he's just purchased a hundred shots, and he's being friendly.
9AM: The second 100 shots is purchased.
9:45AM: Go get in line, Harry's opens at 10!
10AM: Race you to the fishbowl.
12PM: The game is starting, let's go home and take a nap.
Now this might not make any sense to a lot of you, but it's about 2 years (give or take) and 15 games of my life. Breakfast club is where anything goes. Political costumes? I watched the 1% fight and the 99% fight in the middle of the bar. Sensitive subjects? I couldn't even count how many swine flu there were (grown men dressed likes pigs with medical masks on). Sports controversies? I met a slew of Manti Teo's girlfriends and the entire Penn State squad of "tight ends that became wide receivers". Breakfast club makes absolutely no sense, I could not even tell you how or why it started, but it sure is fun. And when Purdue's football team is playing another abysmal season? Well, hey, at least we've got Breakfast Club.
Oh and IU? Don't call your gourmet breakfast buffet at Kilroy's Breakfast Club. Because it doesn't have shit on how we drink. [shots fired]
(video credit: The Purdue University Fast Track and the Harry's Guy- I love your Colts Jacket)
Cyberprops is excited to announce that the official countdown to what you've all been waiting for has arrived! Check out how you too can give props: http://app.cyberprops.com/cyberprops-introduction/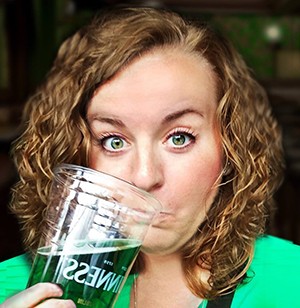 Latest posts by Emily Oskay
(see all)