Props: Harry's Popcorn, Baltimore Zoos, and my main man Harold
You might have been thinking that the happiest place on earth is Disney World; common misconception, don't worry, I won't fault you for that. The most magical place on the entire planet resides at Purdue University, my friends, and it is a historical hole-in-the-wall called Harry's Chocolate Shop. A candy store, you ask? No, sir (well except for those questionable peanut M&M's for sale by the front door); ALCOHOL, SPIRITS, SPORTS, HISTORY and LOVE all under one roof. My props, my money and my heart go to my one true love, Harold.
Harry's Chocolate Shop was a speak-easy during the early 1900's into Great Depression when Congress passed the horrible, restrictive and frankly, un-American National Prohibition Act. So to remain in business, Harry's acted as a soda and candy shop on their first floor, and allowed their cellar to be used for more illicit activities. To access the fun, one simply had to don their Flapper dress, coif their bob, and strut up to the bartender a la Daisy Buchanan and state, "Go Ugly Early." VOILA! Access to the cellar and to the magic, which at the time I'm sure really was magic because most liquor likely was homemade moonshine and absinthe. Unfortunately, today access to this Narnia cellar is harder to grant than the FBI's highest clearance, but one day I will have the fortune of entering paradise, of that I can promise you.
Harry's holds my best memories in college… and about half my bank account. My mom once called me and
 said, "Emily, you're spending an awful lot of money at that Chocolate Shop, you need to cut down on the sweets!" I rode that excuse for as long as possible hoping she would never figure out it was a bar (she did but she too came to love the Chocolate Shop — see photo). Harry's is my favorite place at Purdue, and the first place to which I return when I visit. Now don't you go calling me an alcoholic, as there is much more to this establishment than simply liquor. What you may ask? Fried banana peppers. And popcorn. OOOH THE POPCORN. Harry's offers sports too. Whether you want to watch the big game or compete in their open-to-close Great Indoorsman challenge (yes I came, I saw, I conquered), sports are offered far and wide.
Picture this: you've been out all evening in the dead of winter with your friends, and it hits that 11 o'clock hour (I might interject here that this is for the commoner, as I have been sitting at Harry's since 11AM when it opened). The kitchen closes down while you're still quite hungry but still want to party. What to do? Harry's? Harry's. You go join the line with a lovely outdoor heater above your head keeping you warm and catchy jukebox music, only to look up and catch the eye of your two favorite bouncers Evan and Jeremy. They give you the nod, oh yeah the nod, and you walk right past that line, stopping to exchange pleasantries asking about Jeremy's family and Evan's PHD classes, give them hugs and walk in to all the glory. First stop: Popcorn.
There might be crack in Harry's popcorn because it is quite addictive (and FREE!), so after grabbing two bags for yourself and one for everyone in your party, you head to the bar for a drink. Who is working tonight, please let it be Lane…? It is! Lane, the big lovable bartender who only looks like he could tear you in two but would actually give you a teddy bear hug instead turns to you and says, "Whatcha need sweetie?" Two zoos, please Lane. Now, there are Baltimore Zoo's made all over the country… But there are no Baltimore Zoos that can knock you on your ass faster than a Harry's zoo. "I'd like a cup of liquor with a splash of grenadine and a cherry on top," is what you're actually ordering. You then make your way to the coveted booth with glass walls surrounding it: the fishbowl. You notice that you know several of the regulars sitting in and of course they invite you to join. When your regular friends go to leave, you easily make room for the ten others in your party who can fit into the fishbowl with you. What bliss. Another perfect evening added to the perfect college experience.
Harry's Chocolate Shop is not simply a bar; Harry's is a Purdue tradition full of history, memories, hundreds of names etched into its walls, and about a
hundred years' worth of dirt etched into the floor. Friends gather to socialize here on a regular basis throughout their college careers, and they return frequently upon graduation to reunite with their best friend Harold. I even went so far as to want to be forever glorified at Harry's Chocolate Shop by taking Harry's internationally to London, Morocco, and Switzerland in the hopes of making it on the wall. There are few that love the Chocolate Shop more than I; although I do have to credit a certain fellow who frequented this establishment over 100 days in a row to the point where they offered him a job. So, props to Harry's for the unlimited amounts of popcorn, the zoos, the subsequent hangovers that were totally worth it, and all the memories with dear friends. I'll be back again soon, Harold, don't you fret.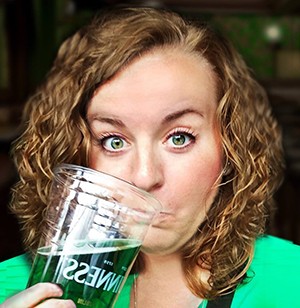 Latest posts by Emily Oskay
(see all)