Props: CYO Kickball, Old Timer's and Playing Like a Girl
Today, I want to give props to kickball. To the beloved school yard game of everyone's childhood but, more importantly, the hardcore sport that women in Indianapolis between the ages of 9 and 40 play. Yes, that's what I said, and that's what I meant. When people think kickball, they think of the red squishy ball, playing in a grass field and all this wimpy BS. That's for pansies. And every time someone suggests I join their "intramural kickball league" I have to decline because I can't bring myself to play fake kickball, I just can't. REAL kickball, CYO Kickball in Indianapolis, is a girls-only, play on black-top, all out competitive sport where the Catholic schools in Indianapolis have leagues beginning in 4th grade to compete against the other schools in the area for the glorified honor of the city championship title.
Trying to explain kickball to others and how I played it growing up is nearly impossible. "Wait, what? You mean you like played for real? As a primary sport? I don't understand.." The only way I can usually describe the kind of kickball we play in my city is saying, it's like softball in its competitive nature and rules, but it's played in a parking lot with a painted-on diamond and a ball that is most closely related to a soccer ball. You can get the idea in the video I included below. (DON'T JUDGE ME I'M IN FIFTH GRADE IN IT – I'm embarrassed to show that video but it gets the idea across, and it's on YouTube so it's irrelevant, people can find me if they try). But needless to say kickball is amazing, competitive, and I am a proud owner of a city championship trophy.
There are some of us that love kickball so much that we come back to play when we're over the age of 21. It's called the "Old Timer's League" and it's a tournament played to the death, well not to the death but typically to the broken bone, for the sole honor of the glory that comes with winning. And the mass quantities of beer and jello shots consumed as well… but that's neither here nor there. Kickball is a time honored tradition in my city, and our type of kickball, this competitive, no prisoners, winner gets the glory, deserves to be recognized because if one more person tells me about their intramural kickball league, I'm going to go crazy. Enjoy the video, play real kickball, spread the word and PROPS TO THE REAL KICKBALL – CYO KICKBALL!
credit to @CinEmotion Pictures for the video and Kevin Murphy!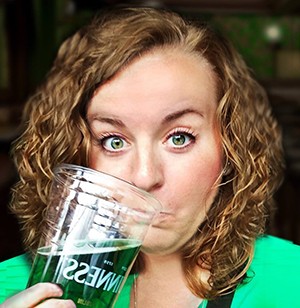 Latest posts by Emily Oskay
(see all)