I want to give props to a moment. It's specific and it's freeing. It's the moment when you get so fed up, so far gone, so live and let go, that you stop giving any f*cks. Go with me on this, you know exactly what I'm talking about, I promise. If you don't think you know what I'm referring to, do your research by watching any movie made in the 80's about teen angst. It's in there too.
Everyone has this moment at some point in their lives, and I want to give props to this specific moment because it's typically the time you finally make a decision you've been wavering on; it's the time you stop putting up with the bullshit in your lives; it's the point where you say, fuck it, I don't care what people think, I'm going to get up on the Talledega stage and dance the Carleton in a dance-off  in front of thousands of people until I get escorted off by security (shoutout to Grit Williams). More often than not, this moment comes with a little liquid courage, but it also comes with a sense of freedom and relief. Sure it's scary or intimidating, but I think it's the most valuable and honest decision you can make.
This juncture comes in many different forms. For some, it's the moment you finally speak up and tell the coworker you hate his ideas are irrelevant, and you'll handle it. It could be the point where a guy or girl you've been talking to blows you off yet again, and you decide they're not worth being a part of your life anymore. It's the time where you stop being self-conscious about social situations and go all in because you realize, you really don't give a shit what people think about you, you're never going to see them again anyways. It's the "fuck it, here it goes" moment.

I'm making this propsworthy moment seem like it's negative, but let me tell you why it's actually the perfect point you can have in a day because following that negative feeling of frustration, you let go. You stop giving any fucks about other people, you rid yourself of baggage and frustration, and you do you. You stand up for yourself, you demand respect, you have fun. And that, my friends, is a propsworthy time. So get rid of any fucks you might've had left because life's a lot more fun open, honest and inebriated without them. Fuck it, life, I'm all in.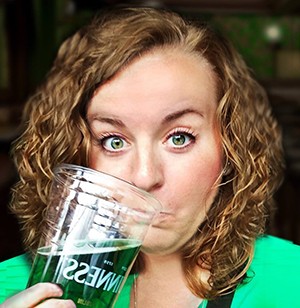 Latest posts by Emily Oskay
(see all)