Props: To all the people who told me to try a new city.
Coming out of college two months ago I felt like I was in the minority of my friends: jobless, directionless, and headed back to live with my parents. Until, one of those changed.  This seemingly horrible place was Austin, Texas. It wasn't so much the destination, but the fact that I knew a grand total of two people there.  Despite hearing and seeing some of the better sides of Austin on various visits (Thanksgiving, Christmas) my roots were deep in the Midwest.  Three months ago I wouldn't have imagined the amazing niche I carved out in Austin.
Going to Texas was far from a sure thing.  I graduated in May and planned on living out my lease till the end of July.  Once that was up I had countless invites to crash on couches until I found a job. Naively I thought it better to be comfortable in all but sleeping arrangements than to concede and try something new in Texas.
Funny enough, it was during a two week hiatus on the east coast and the various people I met on that journey that changed my mind.  It started with my parents getting an invite from my Aunt Susan and Uncle Peter to vacation at their beach house in Maine for a week.  My dad liked the idea and invited me to try and make it work.  Surprisingly, without a job and car, getting out to Maine from Indiana proved a lot easier than it sounds.  Let's just say it helps to have 50 cousins.
My plan was to hitch rides with cousins from city to city and eventually (hopefully) end up in Kennebunkport, Maine.  Coincidentally, the weekend before my parents would get to Maine, one of my cousins had a wedding she had driven from Albany out to Chicago for.  She was driving back the day after, and so I had my ride to New York.
While my non-blood related roots were deep in the Midwest my extended family populated the coasts. As you can imagine I haven't seen the majority of my cousins from a single year to fifteen years.  This made the 816 miles to Buffalo a little easier when you are catching up on several years of absence.  We managed to fill nearly the whole way with conversation, touching on the Austin issue quite a lot. She herself had taken the leap to Buffalo without knowing anybody and raved about how well that worked out for her.  I could see it first hand when we got to her apartment.  Friends, boyfriend, job, all within the last year. That's when the idea first seemed less daunting than it always had.  Not appealing yet, but plausible.
After a brief night in a cabin the Adirondacks by myself (a place I think everyone needs to visit), I was off to New York City for a spontaneous Mets game with more family members.  During the game another cousin offered me a ride up to Maine if I was willing to crash in Philly for a couple days.  A couple days turned into two Phillies games and a trip to the greatest south Philly hoagie restaurant.  This cousin had probably changed cities more so than any other.  A military father combined with a job in a new city every other year made him the perfect person to talk to. Four hundred and five miles of spontaneous story after spontaneous story had blown the doors off the prospect of moving.
This still had not sealed the deal though.  As if this was a bad Christmas Carol analogy, I still had the ghost of Christmas past to future.  A final cousin to foil myself to.  She was the daughter of my Aunt Susan and Uncle Peter.  It took her till the Wednesday of the second week for her parents to convince her to leave Jersey and come up to Maine.  Like me, she had grown up in one place and went to college there.  Two years post-college and she was working as a waiter living out of her parent's house.  With no direction and hardly a job, she was content with herself, comfortable with the friends she had made and the roots she had set.  My aunt and uncle brooded aloud about how they never though she was going to get out of their house, let alone Jersey.
The final nail in the coffin was set.  I hit up Chicago, Cleveland, Buffalo, Albany, New York, Philly, Boston, and Portland in a two week span and had an amazing time.  All of this without knowing more than a couple people in each.  To me, I could keep trying to relive my college days in the Midwest or I could take a leap and try a new city. It was no longer daunting but enticing, so I took it.
It took me a weekend to find friends, two weeks to find a job, and three to find my own place.  Everything has been an adventure, and I have loved every step of the way.  I wish I could mention the countless others who had a minor impact on my decision to move to a new city, but that would be impossibly long.  For them though I would like to give props to and to my three cousins.  Without them I would never have experienced a whole new city and a whole different life.  That's not to say I don't miss my friends in the Midwest, because I do.  It's to say that sometimes it's better in life to mix things up.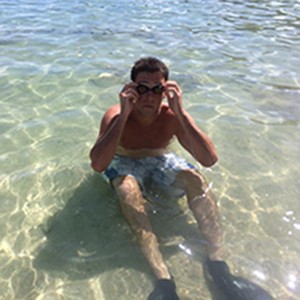 Latest posts by Raymond Mahon
(see all)