Props: The Boomstick
I have a slight problem: I bleed blue. I'm basically Colt Blooded. I love the Indianapolis Colts probably four times as much as I loved my last boyfriend. I have grown up with the Indianapolis Colts from the rougher era of Jim Hardbaugh
and The Edge all the way through the "Peyton make it Wayne" hot years and SuperBowl 2006 World Champions. And who can forget my former favorite player and hall of fame nominee Marvin Harrison: what a stud. Ohhh the glory days… I am also of the variety where there's no team I loathe more than the New England Patriots, no pretty-boy QB I disdain more than Tom Brady, and no head coach I can't stand more than Bill Belichick [cheater]. Oh wait did I say that? Sorry I'm not sorry. Although, we had that one really awful season where as much as it pained me I cheered, "Suck for Luck" and we cleaned house to start over, I think we're getting back on the right track, and I can't wait for this season (only 55 days until kickoff, people).
After Marvin Harrison was injured in 2008 and retired in 2009, I had to start looking for a new favorite Colt to cheer for. I promise I'm not dumping you, Marv, you still have half of my blue heart, but I needed a new jersey to rep and a new player to back. And then in 2010 I hear this hilariously amazing story of punter Pat McAfee, and my decision was made.
Pat McAfee joined the Colts from West Virginia University in 2009, replacing Hunter Smith as the punter for the Indianapolis Colts. McAfee quickly made a name for himself in Indianapolis for both his talented "boomstick" of a leg and his incredibly entertaining Twitter personality. In 2010, I'm watching the nightly news and hear a hilarious story of McAfee's arrest for public intoxication in Broad Ripple when he knocked on a woman's car door at 5AM to ask for a ride shirtless and wet. When asked why he was wet by the police, he said it was raining (not the case). McAfee "allegedly" swam in the Broad Ripple canal that evening, and has been living it down ever since. Now, Pat… I'm on your side, thunder storms pop up in the summer in Indy at any given time, and it is all still "alleged". But in that moment I thought to myself, "This guy is a clown, I love it. I can get behind this…"
Ever since, I have followed Pat McAfee's career, his #TwitterTales and any humorous things he does like posting a picture of a mostly-naked Andrew Luck in the locker room. McAfee brought his humor to the people of Indianapolis as well, appearing on local radio shows and hosting his own stand-up comedy show at Kilroy's Bar & Grill. However, I think what I enjoy most about this player is not only his amazing performance on the field (seriously he should switch to linebacker, he makes more tackles than the entire special teams combined post punting 50 yards+), but his involvement in the city of Indianapolis. All the players do appearances and charitable events, but not many go out of their way to use social media to raise money and awareness the way Pat does.
Not many involve themselves in their local community the way McAfee does. And not many start their own foundation, The Pat McAfee Foundation, to assist the sons and daughters of military personnel with their education.
Pat McAfee may be a clown, but he's a truly good human being who uses his status as a well-respected football player to draw awareness to social issues and community events. He interacts with his fans; whether it be giving them a retweet or response on Twitter or buying them drinks and talking to them in a local bar, he and his friends make you feel important and special. He's a relatable role model and a regular guy who is really good at football,
but humbly knows how lucky he is and chooses to give back. Pat McAfee, you're funny and you've got one helluva Boomstick, but you're also someone the people of Indianapolis love and respect, and I think I can speak for a majority of the city when I say we hope you stay around here for a long, long time. (And keep up those touchdown-saving tackles please!) Props to you Pat McAfee for being a genuine, relatable, local hero to the city of Indianapolis!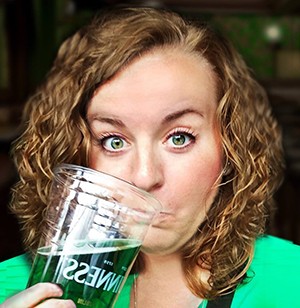 If I could make my living as a vagabond, I would.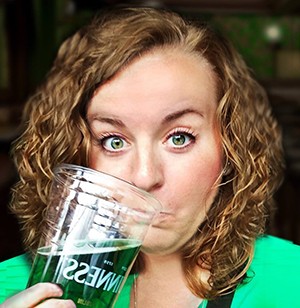 Latest posts by Emily Oskay (see all)
Related posts