Hello fellow prop tarts, I'm here to recognize one of Muncie's most notorious ghost landmarks.  A long time before the big wigs of Wall St. came to Muncie and bought up the village and simultaneously modernized a perfectly good n functioning alcoholics resort, there was Dill Street Bar.  Better known to BSU alumni as "The Old Dill Street."  It was a feeder bar to Alcoholics Anonymous and that's how we liked it.  There was something about pissing on a toilet that was dislodged from a wall with absolutely no working water that made one feel like, "fuck, I don't even care anymore…" Dill was a GPA killer plain and simple,  you can't offer PENNY PITCHERS and expect people to take themselves seriously in your establishment.  Every Wednesday for a couple years my fraternity brother and I would literally gather around a table at Dill and bet on hermit crab races…  hermit crabs… they hired a guy to literally paint numbers on hermit crabs and people would bet real money on them racing while enjoying another "Dill-Deal" which was quarter beer Wednesday, because obviously a penny was stretching us thin to start.  In reality we are talking about a bar that is named after the street it is located.  I can only imagine the owner, "ughhh shit.. we're on Dill St. and this is a bar.. I GOT IT, we'll call it Dill St."  Jesus… Homeless Gary could have come up with a more creative name, but once again we accepted and loved this institution. This blog could easily be turned into a novel, there were too many good times and things you saw at Dill that you truly won't see anywhere in the world, cheers Old Dill, cheers.
–           J.B. '13
---
Good ol(d) Dill, The Wounded Warrior.  A lawless jungle gym terrorized nightly by students walking the line between knowing better and not givin a fucking shit. The setup was immaculate, hitting on all cylinders combining to create a giant black hole. My first bar experience ever was when I snagged Joey's I.D. and weaseled my way into the Dill Street Bar & Grill when I was just a young boy. I thought it was going to be a nice little change of pace from the house party scene, but I was ignorant to what Dill had in store. Immediately when I get in there I see a kid throw up off the balcony. Five minutes later Dan is peeing on the floor. Where am I? I didn't care; Smee was buying me thousands of shots and Alex Frick was having an intense dance off with Muncie locals. During Old Dill's reign of existence no other bar compared. Clean? Absolutely not. If it were on the show Bar Rescue Taffer would have it immediately burned to the ground and retire from rescuing bars. Yet it was hilarious every single time. Old Dill's stadium layout truly made it the Madison Square Garden of boozing. You always put up your best performance in there.
-M.B. '14
---
Old Dill truly embodied the spirit and mind-state of the type of person that attends Ball State.  Gathering in a shithole establishment, in a shithole town…in order to blackout.  Shitty drinks, stupid crab races, fat chicks, dark/sweaty twerk sessions, pissfloors, and booze falling from the balcony are just a small list of what Old Dill had to offer you every god damn night.  Jesus truly frowned upon this shanty. My first trip to Old Dill was when I was an 18 year old Freshman, using my newly acquired RHODE FUCKING ISLAND fake ID.  Rhode Island for fuck's sake.  I went with that fat jew Matt Vaughn to Penny Pitchers, and proceeded to drink shitpiss beer until I remembered nothing.  I was borderline blacked out for my entire college career, but Old Dill had the unique ability to turn even the sweetest college student into a raging BoozeMonster/Muncie Local-type idiot.  A dark abyss/putrid melting pot of a bar where sorority sluts, Muncie locals, B quality college athletes, and drunk idiots could all blend together to create disgusting and hilarious memories.  One Friday night at Old Dill while taking a piss in the rancid, disease-riddled bathrooms, I saw a huge pile of throwup (literal CHUNKS of Chicken that some piece of shit's body decided to completely ignore digesting).  THE NEXT FRIDAY, AKA A FUCKING FULL WEEK LATER…I go into the same bathroom and there I see the same exact grotesque pile of what was most likely the remnants of a dirty Puertas chicken chimiwhateverthefuck.  R.I.P. to Old Dill, but its dream and vision will live forever in our hearts.
– Your humble narrator, G.G.
---
Dill St. Bar and Grill. I'm sure for some of you, reading that sent a shiver down your spine and put your liver into panic mode. For others, you may only know the name from myths and legends that you've heard over the years. The beauty of Dill St is that it's more than just a name and a bar, it's an idea. Outback Steakhouse may claim that their motto is "No rules. Just right," but no establishment put that phrase into practice more than the old Dill St.
I like to think the owner of Dill St came about the idea for this den of debauchery by telling his investors "Imagine if Homeless Gary was a bar…and we'll put the bar on the empty lot on Dill St." "Genius, but what would we call the bar?" "It doesn't matter, let's just call it Dill St, fuck it." And so the legend was born.
I, like many of my colleagues here, could each write a personal memoir about our times we had at Dirty Dill, but I have yet to hear back from major publishers, so I will try my best to do it justice for you here.
Let's begin with the heart and soul (full disclosure: I'm aware that Dill St has no soul, but it's an expression. Also, you technically could count all the souls that have been lost within the sticky walls of Dill, but that is neither here nor there.) ANYWAY, the heart and soul of Dill; the dance floor. You know how war veterans get that look in their eye sometimes that just says "I've seen some shit." Well, when it comes to the Dill dance floor, loyal patrons will have that same look in their eye. Trying to explain to you the depravity that occurred there several times a week would be like trying to have a meaningful conversation with Homeless Gary while you're sober; it ain't happenin'.
As much as I would love to talk about the bathrooms at Dill, actually no, I wouldn't love to talk about the bathrooms at Dill. The briefest way I can describe it to you, is that I saw more men piss in the sink, trashcan (which was eventually removed due to the amount of piss it accumulated each night) and on the actual bar, than in the toilet. I can't speak for the ladies on the bathroom situation, but I've heard stories, and I briefly lost faith in humanity after hearing them.
Let's move on to a slightly less gross topic, shall we? PSYCH! There's no such thing when talking about Dill.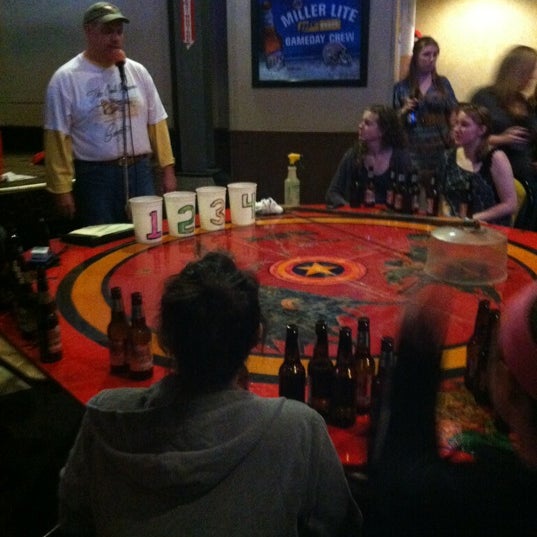 Okay, so let's talk Penny Pitchers and Crab Races, because I would be remiss if those two items were not discussed. We'll start with Penny's, which in all honesty is just a brilliant business move. "Hey, so what should we do with all this skunked, shitty beer that's leftover from last week?" "I don't know, let's open at 7 and just charge a $3 cover and have it be all you can drink, I mean we're Dill St, fuck it right?" And that's exactly what they did, because, you know, what could go wrong with over a hundred young 20 something's blacking out by 9:30 on a Friday right? Well, spoiler alert, it turns out that lots of throwing up and spilling of stale beer everywhere can happen (spilled beer that would never be cleaned up and just soak into their carpet.) All you really need to know about Crab Races, is that Dill St sought out a gentleman who makes a living by traveling to bars and racing hermit crabs. I'll say that again, they hired a man to bring crabs into the bar (although let's be fair, it wasn't the first time that crabs had been in Dill St, AM I RIGHT?) and people paid money to race them. Like honestly, think about that for a minute, what the fuck? I'll admit that I partook in that activity several times, but it's something that I have more questions than answers about.
I could go on and on about the old Dill St, a place that truly met its demise way before it should have. The level of fucks not given by Dill St was truly extraordinary. The entrance was surround by a dilapidated fence that would have been an easy fix, but fuck it right? Why even pretend to care when your whole business model is not giving a fuck. The felt on the pool table was unrecognizable after years of abuse from liquids (Hopefully mostly alcohol, but you never know at a place like Dill.) One time during Penny Pitchers the power for the entire building went out, leaving a bunch of blacked out college kids to drink in total darkness. Did Dill St give a fuck? Of course not. That skunked beer wasn't going to drink itself that night was it?
-M.S.
---
There aren't many places I can call home in this world. A "pretty good town" as the sign reads where I live, in a place called Bremen, Indiana is one place I call home.  Another, is a bar here in good ole Muncie better known as the "Old" Dill Street Bar and Grill! Why is it the "Old" Dill? Because people decided to get a little bold and cocky and build a "new" Dill! Why the hell they felt the need to rebuild is beyond me. What they didn't know is you can't just tear down and rebuild Dill Street! The Old Dill wasn't just another bar in the village, it was a second home to the majority of Ball State students. Whether it was Penny Pitchers on Friday or a casual Tuesday night blackout, that bar was the fuckin holy land around these parts and always will be for the fortunate ones who got to experience the fuckin awesomeness of Dill! This is for you Dill and all you've done for us!!
RIP
–  Bubby
---
I could write a book series about Dill Street that would be  significantly longer than the Harry Potter series.  Still, its tough to find the appropriate words to describe my experiences at Dill Street throughout my college career.   Maybe because I don't remember being there half of the time which causes me to have mixed feelings.   With that being said, Dill Street was always there for us.
When I literally lived 100 yards from the Dill Street Bar, I sometimes considered it "inconveniently close."  The drinks were too cheap and the entrance was FAR too close.  I would get the weekly text message from one of my buddies at 3pm, Wednesday afternoon simply reading "Dolla Fiddies tonight?" The Wednesday would progress and eventually, copious amounts of shots were taken and by midnight, we were walking to Dill.
Once you walked into Dill, there was no going back.   With drinks being a buck fifty, and as people start piling  in, you realize everyone is here for a common goal- to get as drunk, and ratchet as possible.
I'd wake up Thursday morning with my neon wristband, walk out onto Dill Street to begin my daily stroll into campus, looked left to the bar and patiently waited for the text at 3pm that would simply read "Quarter Beer's tonight?"
-R.B.
---
Put on your Wednesday best because here comes 1.50's, a Muncie weekly holiday.  For those who do not know there was once a prehistoric
monument in Muncie Indiana at the corner of University and Dill Street…cleverly enough named "Dill Street." My whole four-year career the fence outside this beauty looked as if the Tyrannosaurus Rex from Jurassic Park had ripped right through it. What a better way to continually fix this by your average zip tie that would last no longer than a half hour. The bouncer would then check whatever rectangle do,cument you had to get into the door, whether that be your real ID, a fake, a four of clubs etc. you were in. Upon him giving you the inevitable nod of acceptance your GPA instantly dropped a tenth of a point…but we all felt home.  Whether it's penny pitches, 1.50s, quarter beers it was all fatal. The first thing one notices after your eyes adjust to the dimly lit, body odor must is your foot stuck in the carpet like the Molasses Swamp space in candy land.  Upon plunging your foot off of the horrific carpet you move upstairs and double first the special for the night. My forearms will forever be bruised after leaning on that railing checking out the blacked out dance floor. Lined all along the ledges were of that railing were what seemed like the laughing hyenas from Lion King looking for their prey.   "Thou only goes to the bathroom if thou has to at Dill St." – the long lost 11th commandment.  If necessary, after shuffling through a herd of the most blacked out humans in the city you find yourself in what seems like the inner depths of hell. No running water, no toilet even close to connected to the wall… this was the equivalent to peeing in a thick swamp of brothy piss and throw up.  The blackest of the blacked out made it to the sweat drenched, checkered dance floor. But it was something about that sweat drenched, checkered dance floor that brought out the best in the dancers. It was equivalent to Lil' Bow Wow putting on his shoes that made him play like Mike.  After many nights with billions of drinks, multiple vomits, thousands of fights broken up way too late by the understaffed bouncers, it was time to burn this place down. Upon doing so making a hole in the ozone. Thank you for all of the great times Old Dill Street, you will forever live in our hearts. RIP.
– Keagan
---
"I made out with DJ Killa Cam in his filthy DJ booth so he would play 'Call Me Maybe' I then proceeded to steal a handicap kids electric wheelchair and take it for a joy ride."  But hey that's Dill…
-E.C.
Latest posts by The Lunch Break Boys
(see all)