Props: Tim Howard
So I don't know a lot about soccer even if I might pretend to,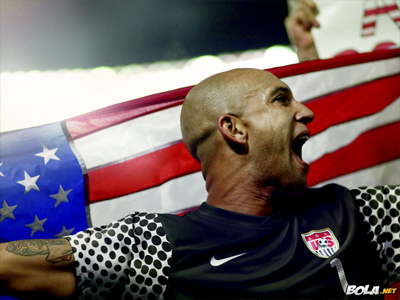 (that whole offside rule makes absolutely no sense and there should be more tackling happening), and I will 100% admit to being a fair-weather fan, but no one can deny that I love the World Cup and my country. I dare you to question my loyalty to America. So being the World Cup enthusiast that I am, I, along with thousands of Americans throughout the country, gathered in a bar with beers in hand for every USA game to be had. I chanted "USA" alongside hundreds of strangers and even shouted the "I believe that we will win" chant with a high school soccer team. I love the pride of our "One nation, one team."
But even though I'm not a soccer connoisseur, player or even dedicated fan of the game, I know America played better than expected but still average. We were eliminated by Belgium for God's sake. What does that country even have? I'll tell you, I've been there: the worst French fries on the planet (that's where the fry was invented) and waffles and beer. Ok the waffles and beer are kind of ideal, but still. Not much else to see in Belgium but old windmills and this tiny, stupid statue of a peeing boy (see photo).
I digress… My point is the US team showed up to tie not to win. We can tie with the best of them, but when it comes to shots on goal or you know that whole "scoring" thing, we struggled majorly. However, if there was one outstanding MVP of the tournament for the US, no one can argue that that man was Tim Howard, the USA goalie. This man can dip, duck, dive and dodge any ball coming his direction, and he saved us countless times throughout the tournament. At 35 years old with a beautiful man-beard, Tim Howard impressively battles Tourette's Syndrome while still kicking ass on the soccer field. This young buck had an 82.4% save rate. I know what you're thinking, that doesn't sound that good; well in reality, his save rate is actually incredibly impressive considering our competitors had an average of 24 shots on goal per game as compared to the US's 9. In the Belgium game alone this fellow stopped 25/27 shots on goal, a 93% save rate.
If anyone single-handedly saved America's ass from being eliminated in the World Cup 2014 before the end of group play, it's Tim Howard. The only reason for our advancement to the semi-finals was due to the defense having few goals scored against them in group play because it definitely wasn't because we were scoring and winning. Howard had the most saves in a single game, 16, in World Cup history. America owes an improbably large thank you to Howard for leading us. So props to you, Tim Howard. You kept the US from being an embarrassment (**cough cough SPAIN**) in this showing of the World Cup, and I and my country thank you and give you mad props.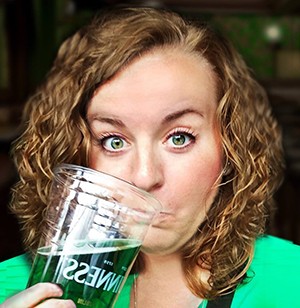 Latest posts by Emily Oskay
(see all)