If you want to be dropped on that stack of dimes you call a neck, gimme a Hell Yeah!!!
Everybody has that one hero growing up, whether it is a musician, a footballer, an actor, a character in a cartoon, a superhero or whoever. We all have brilliant childhood memories of these figures that once they spring to mind in the present day – you are immediately taken back to those 'good ole days'.
The iconic figure of my childhood was the toughest S.O.B in the WWF/WWE, the Texas Rattlesnake, "Stone Cold" Steve Austin. Nowadays he airs one of the most listened to podcasts in the world via podcastone.com that allows him to still entertain his millions of fans around the globe on every Tuesday and Thursday. But back in the late 1990's and early 2000's, he was driving wrestling fans all over the world crazy with his infamous antics and brilliant story-lines. Any wrestling fan will want to give this man props. He gave us so many memories that will live with me to my dying day. A thrill, an enjoyment that can be very difficult to explain to your everyday naysayers who also jump up out of the ground to say, "But don't you know it's fake?", to which I candidly reply, "So are all of your favorite movies." If a guy falls ten feet from the air on his back somehow the pain should be fake too. Anyways, major props to Stone Cold Steve Austin.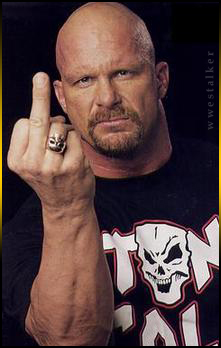 There are rumors constantly floating around the net about a possible one match return at Wrestlemania for the 49 year old. He himself has said no but hasn't ruled it out indefinitely. What gives tinder to these rumors is the fact that Wrestlemania 32 (2016) will be held at the Dallas Cowboy's mammoth stadium. Could the king of Texas comeback for a swansong that he so desperately deserves? I for one really hope so. Just to hear good ole J.R once more screaming, "It's Stone Cold! It's Stone Cold! It's Stone Cold!" after the glass breaks.
Thank you Stone Cold. Cyberprops to you. "And that's the bottom line because…" you know the rest.
It says a lot about a guy who's childhood hero was a beer drinkin', ass kicking, middle-finger flippin', mud-stomping son of a gun. Oh well. I may find my redemption yet.
Latest posts by Ronan O'Connell
(see all)