I've been traveling around Ireland for about a week and a half now, having previously visited the country last summer for about 10 days, and I can honestly say there are no nicer group of people in the world than the Irish, which is why I want to give them props.
Ireland's history is recent
, colorful, and tragic in so many ways. They're fighting for their freedom, they're fighting to become a viable, profitable country, and they're fighting to remain relevant. To give you a little perspective, Ireland is approximately the size of the state of Indiana and is home to about 7 million people, 3 million of which reside in Dublin alone. But for a small country, they're fighters, they're humble and they're happy, happy people (maybe it's all the Guinness).
One event just over a hundred and fifty years ago, known as the Great Potato Famine to most Americans, killed over a million people in Ireland from starvation and caused over a million more to emigrate to new places. This country's economy is still recovering from that blight, and many places, such as my own family's hometown of Cahersiveen, has yet to recover and is rapt with unemployment. Similarly, Ireland and the UK have been duking it out for the past hundred or so years as well. The Irish Free State (or The Republic of Ireland) seceded from Great Britain in the early
20th century, but much unrest remains to this day in Northern Ireland.
And yet, this country is making it work. Through it all, day by day, these people are morphing their lives to meet the demands of the 21st century to stay afloat. After the famine and the blight of the potato population, farming morphed from potatoes to sheep. In fact, for a country that consumes so many potatoes, hardly any are grown here anymore. They also picked up tourism and technology. Tourism has become essential to the Irish economy and way of life. I don't know the actual statistics, but I'd guess it's reaching close to 30-40% of the country's income. Likewise, they've modernized themselves from their old-country ways and beliefs and become a hub for international technology companies like Google, Twitter and Facebook. Think of them as the Palo Alto of Europe. They're still young and up and coming, but they're fighting their way back to a center of importance in the world.
But the real reason I started this history lesson is because through all this famine, hardship, war and unrest, these people have remained a close-knit, humble, hardworking, happy people. I've never been so well received as a tourist and traveler in a country. Today, I'm in the town where my mother's family hails from (we GTFO during the famine), and when people asked why I was here, I told them of my heritage. The people were so friendly and chatty telling me I must know this Murphy and that Murphy and that my cousins are probably just around the corner. They probably are, to be honest, but my dad likes to say there are as many Murphy's in Ireland as there are potatoes.
These people have seen some of the biggest hardships I can't begin to fathom, and yet they're still welcoming with open arms, they're still looking at the positive parts of their lives, their families, and their health. These people literally emulate day by day what we're trying to accomplish at CyberProps- recognizing the good, bringing back happiness, positivity and kindness in the world. So props to the Irish, for being better people than I ever could and for hosting me in this lovely country in such a lovely way.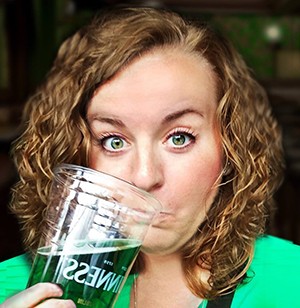 Latest posts by Emily Oskay
(see all)