On July 4th, 1776, a new nation was born. But in 1790, the greatest American sport of all time was born: baseball. According to some British idiot Henry Chadwick, baseball is a sport derived from the English game "Rounders". However, this semi-important professional Albert Spalding disagreed. Down with the British, baseball is fundamentally and wholly an American sport derived on American soil. Dump that in your harbor, England.
Baseball has been dubbed the quintessential American pastime, and for good reason. Playing a total of 162 games for each club and with 30 teams in the league, this makes a grand total of 2430 games each year. Suck on that Brady, your 16 games and deflated balls have nothing on Major League Baseball pitchers.
The real reason I love baseball so much is because of the atmosphere. There's nothing like sitting in the stands with 40,000 other people drinking beer and eating cotton candy while watching your clean-up hitter bomb a home run over the left field fence (props to The Todd Father and that HR derby win). I love the smell of the fresh cut grass and watching the mascots dance on top of the dugouts. I love standing up to the 7th inning stretch and belting my heart out to "Take Me Out to the Ball Game." Baseball is a spring-summer-fall religion to me. And since I'm not good enough to hit a 90 mile per hour fastball, I find my religion in being a fan and playing in the beer leagues Wednesday and Thursday nights.
That's right, I'm talking about the holiest of holies, the place where grown men revert to adolescence throwing beer-induced temper tantrums after a foul ball strikeout; I'm talking about slow pitch softball. Indianapolis has a surprising number of leagues around the city, most likely because any one of those teams can take on the Indianapolis Indians and win. Slow pitch softball is honestly hilarious but must be taken seriously. We've got two missions: how many runs can we score and how can we simultaneously field a grounder to third while sipping on a Corona (My team prefers Bud Light Limes, but I'm embarrassed to admit that. Although, you're welcome Anheuser, you still have that product line because of this team). It's fun being a girl who knows how to play softball and playing in the leagues with these grown men. Nothing upsets them more than a girl who can hit the ball. Some people play for fun, all play for glory. It's our way of taking the game we love of our childhood and still playing today. Although, I really do bet I could try out for the Indianapolis Indians and make the team.
Props to the Great American Pastime. It's a sport we invented, a sport we cherish, and is wholly American. Whether you're drinking beers in the stands of Wrigley feeling like you stepped into a time warp back to the 20s to watch the true way the game is played or you're sneaking a beer in your glove to left center field, either way you're drinking!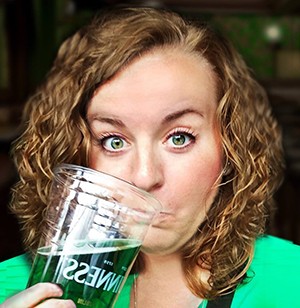 Latest posts by Emily Oskay
(see all)