A few days ago, my fellow Cyberprops comrade Kakpindi Jamiru gave props to Doctors without Borders or MSF, a volunteer health organization dedicated to helping solve medical crises like the ebola outbreak in Africa. Today, I want to give props to a like-minded global initiative called The Thirst Project. A few weeks ago, I had the pleasure of meeting Seth Maxwell, Co-Founder and CEO of The Thirst Project, an initiative dedicated to building wells in third world countries and bringing fresh, clean water to these remote villages to provide safety and sustainability for the people of these villages.
Did you know that today almost a billion people don't have access to safe drinking water? That's one in eight people. For most of you, that would be like one member of your family dying from a disease caused by water contamination. That's approximately one child, one person, every 15 seconds. FIFTEEN SECONDS! 2.2 million people die per year due to diseases associated with water contamination. Think about your little sister, your little brother, your cousin, daughter, niece or nephew; then think about them suffering from a disease that is going to kill them, and you can't do anything to save them, even though the entire thing could have been prevented with something as simple as fresh, uncontaminated drinking water.
The problem is not a lack of water in the world, the problem lies in a lack of access to this water. The average distance people walk simply to get water for their village for the day is 3.75 miles. Over a 5k! Could you image walking a 5k just to get a drink of water? And this task typically falls to children, leaving no time for school. Their poverty cycle continues due to lack of education, but without water, there is no life.
This is where Seth Maxwell and his friends in college came in. They learned about what was happening in Africa, South America and Southeast Asia, and began to collect money to donate to water organizations to build wells in these remote villages. But then they saw that many of these organizations they contributed to varied in their ability to promote sustainability within these villages, so they created their own. In just a little over five years, this group has raised over $8 million dollars and funded projects to provide clean, safe drinking water to over 300,000 people. They have set a goal to provide clean drinking water to an entire African nation by the year 2022.
The difference between The Thirst Project and many other global water organizations is they do extensive research and train the villages to become sustainable in maintaining the well the organization digs. They create a committee of villagers – half men and women, to promote gender equality, that become a team dedicated to the sustainability of the well. Each head of household must sign a contract agreeing that the water is communal, and they must contribute a portion of their annual income to a fund for replacement well parts whenever needed. The Thirst Project trains the water committee on how to repair and maintain the well, makes sure they understand the agreement they have signed, and sets up the fund for well maintenance, all before they even come to dig the well. These efforts in sustainability have shown tremendous results in a lack of well failure.
In addition, the Thirst Project does hydrology surveys of the land before they drill a well. These surveys help to find the best location for a well to tap into the natural water springs. Often wells dry up due to improper placement or dry seasons, so Maxwell's group prevents this through their hydrology surveys and digging a deeper well than is considered standard.
After meeting Seth and listening to this all I could think about was when I was in college, would I have been able to accomplish so much? Could I be that selfless? And how did I not know about this global crisis? How could I have been taking something as simple as clean water for granted for so many years of my life? That is why I want to give props to The Thirst Project. This project is a movement that will truly change the lives of villages and countries throughout the globe. Props to Seth Maxwell and the other members of The Thirst Project for getting involved in such a noble cause, for building global awareness about this issue, for creating sustainability within communities, and for saving thousands of lives. Props to you for your accomplishments and the selflessness that you developed at such a young age.
If you would like to volunteer for or donate to the Thirst Project please visit their website. I can't think of a better cause than changing and saving someone's life.
Facts and statistics credited to http://www.thirstproject.org/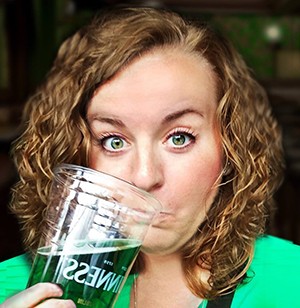 Latest posts by Emily Oskay
(see all)