In light of National Women's Equality Day last week and the badassery of women in general, the PowerProp Girls picked our favorite 25 women around the world and throughout history who are making strides and taking names in the process of total world domination. Slightly exaggerating there, but you get the idea. Women have made a serious growth in the arts, athletics, and government, but to this day we still fight to have equal pay, representation in government and social equality against double standards. So props to these women below, each of their lives is paving the long road for women trying to catch up.
Eleanor Roosevelt – Roosevelt was a controversial First Lady for her outspokenness, particularly her stance on racial issues. On a few occasions, she publicly disagreed with her husband's policies, unheard of in the early 1900's. She advocated for expanded roles for women in the workplace, the civil rights of African Americans and the rights of World War II refugees. Eleanor Roosevelt was arguably the most influential spouse of a President of all time and her famous saying is one we try to live by every day at CyberProps, "The future belongs to those who believe in the beauty of their dreams." Props, Eleanor!
Coco Chanel – The famous French fashion designer credited with liberating women from the constraints of the "corseted silhouette" and popularizing a sportive, casual chic as the feminine standard of style in the post-World War I era. Chanel was one of the first women to achieve both success as a business woman and social prominence. Coco, all women thank you for freeing us from the corset constraints!

Harriet Tubman – Born a slave in Dorchester County, Maryland, Tubman was beaten and whipped by her various masters as a child. Tubman escaped to Philadelphia, then immediately returned to Maryland to rescue her family. Slowly, one group at a time, she brought relatives with her out of the state, and eventually guided dozens of other slaves to freedom. Harriet Tubman is an American hero. She saved countless lives of enslaved people from the South and her bravery deserve endless props.
Ellen Degeneres – The famous comedian and talk show host is a strong advocate for the LGBTQ community and the Global AIDS Awareness. She is an open-minded and smart woman who people can't help but love, and she's got some killer dance moves!
Cristina Kirchner – President Kirchner is the first directly-elected woman president of Argentina. She has made enormous strides to help alleviate poverty in Argentina and continues to be a public favorite after over 7 years in office. Impressive considering it only takes about 2 for all Americans to turn on our own President!
JK Rowling – JK Rowling, writer of the famous Harry Potter series, began writing the novels in 1997 destitute and nearly homeless. In the last two decades since the series began, Rowling has sold over 400 million copies of her books, made 8 movies and turned the Harry Potter fantasy into a franchise worth billions, although Forbes has since removed Rowling from their "world's billionaires list" because of her $160 million dollar contribution to various charities. Pity.
Tina Fey – American writer, actress, producer and comedian, Tina Fey has received eight Emmy Awards, two Golden Globe Awards, five Screen Actors Guild Awards, and four Writers Guild of America Awards, and has been nominated for a Grammy Award for her autobiographical book Bossypants, which topped the The New York Times Best Seller list for five weeks. She's created shows we all know and love such as 30 Rock, Baby Mama and Date Night. Personal shoutout for the writing on Mean Girls, I consider it the most quotable movie of all time.
Caitlyn Jenner – A recent addition to famous women, former decathlon gold medalist Bruce Jenner, now Caitlyn Jenner is a woman we can't help but admire for fulfilling her life dreams, for being true to herself, and for being an advocate for transgender men, women, and teens across the country. Her Espy speech for the Arthur Ashe Courage Award was beautiful and inspiring, and she deserves both the award and props for her unrelenting courage to live her dreams.
Georgia O'Keefe – An American Artist best known for her paintings of enlarged flowers, New York skyscrapers, and New Mexico landscapes. O'Keeffe has been recognized as the "Mother of American modernism". O'Keeffe is also rumored to have made abstract painting of women's genitalia look like forbidden fruit so props to her disguise or open minded feminism, whatever you want to call it.
Ronda Rousey – Rhonda is a famous and undefeated MMA fighter, having won 11 of her 12 fights in the first round. She's a bad*ss b*tch with the motto of having a healthy, fighter's body and the mentality that a woman should be strong enough to do life on her own if she so chooses. Her DNB hatred and her outright shaming of Mayweather at the Espy's saying, "how's it feel to get beat by a girl for once?" deserves tons of respect for the boldness. Keep rocking it, girl!
Susan B. Anthony – An instrumental leader in American social reform and a feminist who played a pivotal role in the women's suffrage movement. Susan helped us get our voting rights. She's arguably one of the first people to make society realize the pivotal role of women and led the way for women in politics today.
Taylor Swift – My colleagues chose this one, and they are adamant that Taylor is not only a humble performer, she also takes time out of her day to give special attention to her fans. She brings on great guest performers to her show, and has the baddest squad around!
Anne Frank – Although Anne Frank passed away at the hands of the Nazis, her diary and writing lives on. She gave immense insight into the lives of those hiding from the Nazi regime in the 1940's. Anne was simply documenting her life and giving herself something to do in a dark time, but she has become immortalized through those words and her insight deserves props.
Virginia "Ginni" Rometty – Ginni is the CEO of IBM. No big deal or anything right? After over 30 years of experience at the company, Remetty was named CEO in January of 2012. She has been named to Fortune magazine's "50 Most Powerful Women in Business" for ten consecutive years, ranking #1 in 2012, 2013 and 2014, and was one of Forbes magazine's "World's 100 Most Powerful People" in 2014. She's what I hope to become someday – rich, powerful and famous through hard work and dedication.
Malala Yousafzai– Malala has taught us so much about education, peace and standing up for what is right. She is the youngest Nobel Prize laureate, recognized for her human rights activism in Pakistan where she was shot while going to school. Today, Malala has become the voice of girls' education – a cause that we love!
Miss Piggy – This cartoon character was one of the first women to influence children at a young age. She put up with Kermit's shit for how many years and then decided that she's a strong independent woman who's tired of waiting for her frog to turn into a prince. Props Miss Piggy, or should we say Miss Independent.
Barbara Walters – This should be fairly obvious why she's made the list. She's interviewed everyone from the Dalai Lama to Miley Cyrus. She's the consummate professional, and has been nominated for a daytime Emmy Award every year for the past 35 years. However, my favorite Barbara Walters interview has to be when she interviewed the Kardashians. Barbara doesn't beat around the bush, and that's why she deserves props.
Cat Cora – Cat Cora was the first woman Iron Chef on the Food Network. Stereotypically, men think women belong in the kitchen, however in the restaurant world, men dominate the field as executive chefs and restaurant owners. Cat Cora deserves props not only for breaking into a male-dominated field, but kicking ass and taking names in the process.
Alison Parker – Alison Parker was a reporter who lived life to the fullest and loved her job, her family and her boyfriend. She was ruthlessly gunned down while she was doing the work she loved – reporting. CyberProps gives the utmost respect to her and her profession, and we offer solace to her family.
Amelia Earhart – Amelia Earhart, a local Purdue University staff member, was the first woman aviator to fly solo across the Atlantic. During an attempt to make a circumnavigational flight of the globe in 1937, Earhart disappeared over the central Pacific Ocean. Fascination with her life, career and disappearance continues to this day, and I have every belief she's immortally posted up on a beach in a grass skirt sipping on coconut rum. Earhart made strides for women in aviation everywhere, and still holds many records to this day.
Carolyn Davidson – Carolyn Davidson is a famous graphic designer known for her work on the Nike Swoosh logo. For her work as a design student back in 1971, the company paid her $35. THIRTY FIVE DOLLARS for arguably the most iconic logo of all time. Since, she has been compensated accordingly for her work in NIke stock, but she remains humble saying, "It was nice of him to do because I invoiced him for my work and he paid me accordingly." Props for going down in history, Carolyn. People may not know your name outright, but they know your work.
Amy Schumer – Amy Schumer is a tell-it-like-it-is comedian, and she deserves props for it. In a world where body shaming, egotism and outright nastiness is rampant in the media, Schumer finds the humor in all of it. She's brutally honest but honestly funny, and she deserves props for the hilarious lifestyle she leads!
Victoria Knight-McDowell is a self-made Millionaire Mom for her 1997 invention of Airborne. The California schoolteacher started an herbal remedy with her husband to prevent her from catching colds from her second grade students. She has since patented and she first sold over $100 million dollars in 2005. Props to a woman who took a real life problem, like small children's germs, and turned it into a successful business!
Mother Teresa – This saint, literally she's going through the canonization process, founded the Missionaries of Charity which run hospices and homes for people with HIV/AIDS, leprosy and tuberculosis; soup kitchens; dispensaries and mobile clinics; children's and family counseling programs; orphanages; and schools. Mother Teresa was the recipient of numerous honours including the 1979 Nobel Peace Prize. In 2003, she was beatified as "Blessed Teresa of Calcutta". This is the most selfless individual many of us have known in our lifetimes, and she is the definition of respect and dignity.
Give props to your favorite +Woman in History on the CyberProps App! Respect, respect ladies!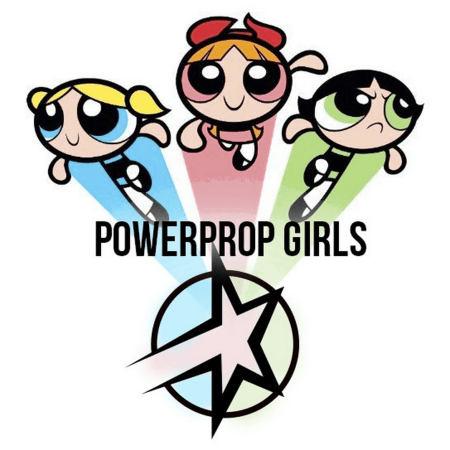 Latest posts by PowerProp Girls
(see all)