Props: Role models who shape our lives
(originally posted in March of 2013 during Jack Doyle's rookie season, reposted July 22nd in honor of his upcoming contract year)
What is a role model? To me a role model is someone you aspire to be and someone you don't want to disappoint. Like most boys, my first role model was my dad. I would follow him around and do everything he did. My father unintentionally instilled in me a love for sports which led me to try as many sports as I could. From football to basketball to anything I could throw, shoot, kick, or hit…  I was outside trying it. As early as I could I started playing sports at the YMCA and Holy Spirit School in Indianapolis. This is the first experience I had of other role models coming into my life… my coaches.
I was so blessed to have so many influential people in my life, but more specifically in my sports careers. From football, basketball, wrestling, and baseball there are too many coaches to even list. I am forever grateful for these people in my life. The time they take away from their own families to help others is something that still is overlooked way too often. They instilled characteristics in me such as work ethic, mental toughness, teamwork and a positive attitude, which are still things I carry with me in my everyday life. Around this time in my life, I began to look up to professional athletes. I always had my favorite Colts player Reggie Wayne and Pacers player Reggie Miller. As a teenager, the Reggies were my idols. I would see Reggie Wayne make a catch, then I would go outside and try and reenact it. I looked up to him not simply for his athletic talents, but also for his demeanor on and off the field. I watched his actions and used them as my motivation.
Going into high school I knew I wanted to play a position similar to his. I was too slow to be a wide receiver and just tall enough to be a tight end. Going to a school on a different side of town, I was unfamiliar with a lot of the student body. Luckily, I had another mentor come in my life named Coach Jimmy O'Hara. Coach O'Hara also grew up on the Eastside of Indianapolis and welcomed me with open arms. He taught me the importance of teamwork and camaraderie. These morals are very important to him, and he understood just how influential these years of our lives were in making us learn these values. I carry these virtues with me in all that I do in life.
I would be lying if I said I got where I am today by myself. When I found out last year that I was going to be playing in the NFL for the Indianapolis Colts, my thoughts went straight back to that boy playing front yard football trying to reenact his hero. Now being Reggie's teammate, I get to see first hand the role model I grew up imitating. But the best part of what I do today is getting to be a role model to those same kids playing front yard football. I hope I can be half the role model these men have been to me.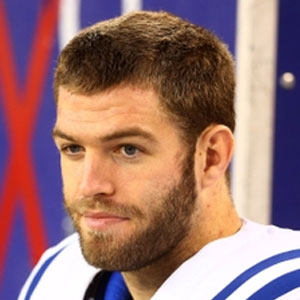 Latest posts by Jack Doyle
(see all)