Peyton Manning sure, he broke the career yardage record in Mile High Stadium this year. He's an All-American guy with a group of records you could write a coffee table book on… single season touchdowns, career touchdowns, most passing yards in a season, Super Bowl winner, so on and so forth. The guy has a Children's Hospital named after him for Christ's sake.
I'm not here to talk about those records though, I'm here to talk outside the lines and look deeper at the bloodbath of sacrificial lambs it took for him to get there that must be mentioned in his Hall of Fame Induction speech. The stat I want to talk about is ROD's- that's right ROD's (Receivers Out to Dry.) The Purple Hearts, the Bronze Stars, the Crash Test Dummies you see on those car commercials running into cement walls. Honestly Peyton's receivers shouldn't even garnish the team logo, instead just have yellow and black crash test dummy tape X's on their melons. Speaking of melons, I like to call him Peyton Gallagher… because sitting in the front row at Lucas Oil, you might wanna wear a pancho cuz you're likely to get some Colts WR brain matter on you and your loved ones.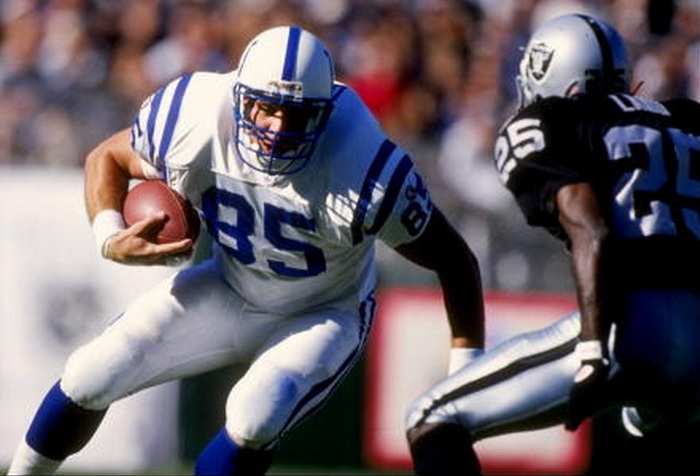 Ken Dilger: Peyton's first Tight End. All beef, all technique, and a whole lot of torque.
Concussions weren't a big deal in the late 90's. A baby face Manning began dropping bombs to his Middle Beast just before Colin Powell would begin looking for Weapons of Mass Destruction in the Middle East. Little did he know that Jim Irsay was stockpiling a Weapon of Mass Concussion back home in the Middle West.
Ken was 6-5, 260 pounds and built like a shit brickhouse. He never missed a game due to injuries. Yet 11 years after his playing career, he would find himself listed as a winner of a class action lawsuit against the NFL for concussions. Buckle in folks; it only gets darker from here…

Dallas Clark*****
(* denotes confirmed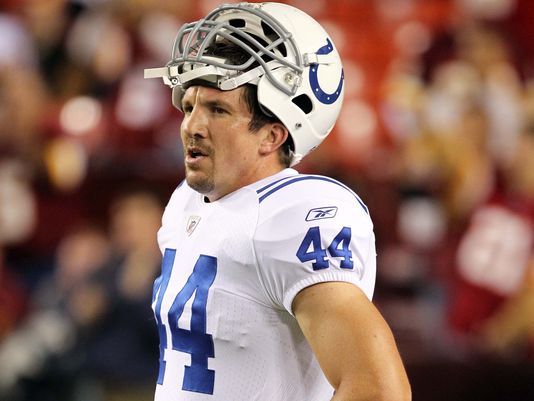 concussions while playing with Peyton Manning)
One year after Dilger left the Colts, they drafted Dallas Clark from Iowa in the first round. He escaped Tornado Alley only to live in the middle of the field, "Concussion Alley" as Peyton likes to call it.
Dallas became the NFL's first ever slot TE, which changed the way NFL offenses played the game as well as the way NFL tight ends bought adult Depends.  Although Dallas has only confirmed 5 concussion incidences, you can take it from a true fan that he emptied his bowels on the field on at least 12 occasions. While he says he's only had 4-5 concussions his doctor literally said, "He's simply gotten used to the symptoms." "Dallas is learning the offense, getting more explosive every year," Peyton said after Clark's 2nd year. "Ssdlfnafjdfba," Dallas replied.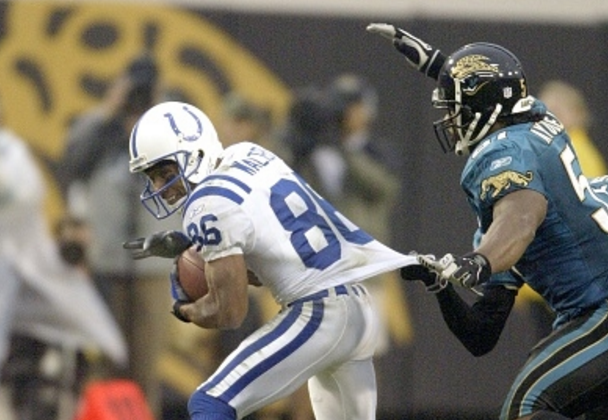 Troy Walters*: Troy was there during this whole time, moving from the Dilger era to the Clark era. He was happy to finally get his shot as a starter, but his run lasted about as long as a Kim Kardashian marriage.
Preseason football—–
Like a 3rd grade girl's basketball game, most of the crowd is family. Most people would rather find a penny heads up on the ground then care to know if their team won or lost. The starters don't play and the cheerleaders wear hoodies. It has the feel of a Corporate America birthday party for the most boring guy in accounting. To give anything more than 60% might earn you the next spot up on the special teams' depth chart, or in this case the Special Olympics depth chart if Peyton's throwing you the ball. Article:
"Walters injured the arm on the first series when Peyton Manning tried to throw a deep pass over the middle. As Walters looked up and reached for the ball, New York Jets safety Jon McGraw closed fast and hit him hard around the shoulders"

"Walters crashed to the ground and lay on the field for several minutes, surrounded by four doctors and Dungy. When Walters finally got up, he walked from the field straight to the locker room, aided by doctors."
Walters suffered a career ending concussion and a broken arm.
Similar to killing two birds with one stone except breaking two body parts with one pass, you've really outdone yourself this time Peyton. Peyton could never settle once he had done something. Concussions were growing mundane at this point. This time Peyton completed the broken arm AND concussion on the same play.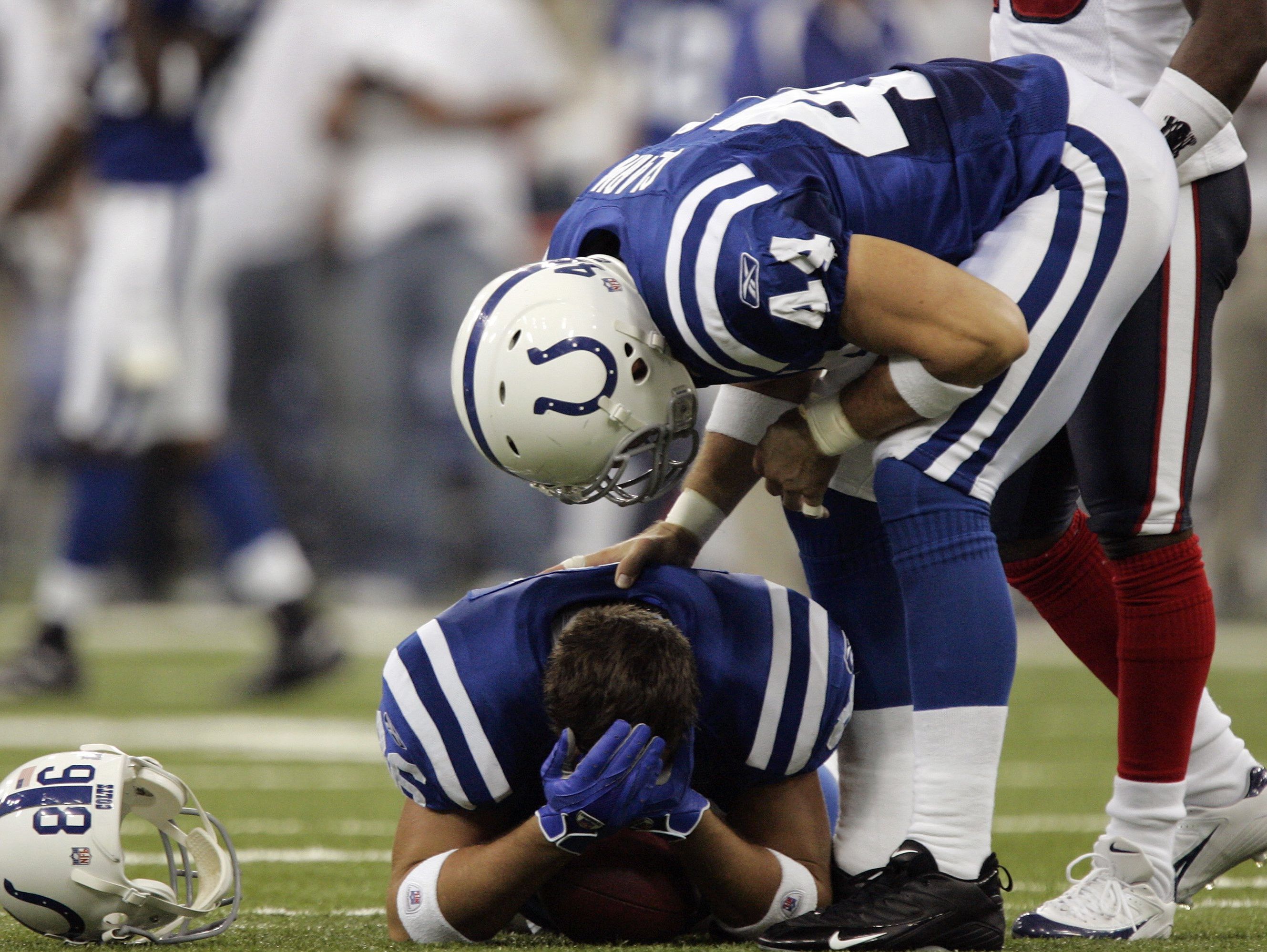 Ben Utecht****:I'm just going to have to let the article speak for itself on this one. Here is the first paragraph:
"A series of head injuries abruptly ended the NFL career of Ben Utecht, but he's using his new career as a singer to share important memories before they're gone"
Does anyone else picture Ben in his basement with a karaoke machine, singing along to Peyton's Nationwide commercials?
Austin Collie***:Austin Collie used to count sheep to fall asleep but now when he gets to 18 he just has violent seizures. One could say that "18" is Austin Collie's Sleep Number…
Final Straw
Of all the PMCC's (Peyton Manning Caused Concussions) there's one that sticks out to me, one that one won't let me fall asleep, like most of Peyton's former receiver's "doctor's orders". No laughing matter they say, concussions are serious. Well how serious does the biggest offender of all time look in this clip? LOL right ROFL, LMFAO? How about one acronym CTE (look it up). Not even the children are safe, for this man puts the kids in the very hospital he helped erect.
As of November 12, 2015 Peyton Manning had thrown to 88 different receivers. How many of them were ROD's you ask? HOW MANY!? NOTABLES: Jerome Paython, Ken Dilger, Austin Collie***, Anthony Gonzalez**, Dallas Clark*****, Marvin Harrison, Brandon Stokley*************, Terrance Wilkins, Troy Walters, Wes Welker***, SNL kid* (no laughing matter), Ben Utecht****, Eric Decker**, Jacob Tamme**, Marcus Pollard.
One has to ask thyself however, is it really Peyton's fault? Clearly concussions "didn't exist" when Peyton entered the league (Reference Ken Dilger). Peyton obviously couldn't learn much about an injury in college that literally wasn't real. Not to mention Peyton Manning played in the RCA Dome which was literally a Coliseum that's floor was made of concrete with football field wallpaper plastered over it. If the initial impact of a strong safety lunging full body spear into a receivers head wasn't enough to mash-brain then, the ricochet of ones skull off the cement surely did the trick every time.
How did Cooper Manning really get hurt though…. makes ya think.
_____________________________________________________________________________
Latest posts by Grit Williams
(see all)