This is not for the faint of heart. I'm talking about that spicy sauce made from chili peppers. In my life, it is the condiment that goes on pretty much anything. The hotter the better is all I ask. It adds a zest to even the blandest of foods. If you are not a hot sauce enthusiast, continue on to another blog because there is nothing for you here. But if you are one who appreciates the undeniable collaboration of Heaven and Hell, please join me in giving props to that substance that makes you sweat. Drink all the water you want. It will not help calm the pain. I must also give a shout out to Mexico, the home of 140 varieties of chili peppers alone. So, Mexico… I salute you.
When I think of hot sauce, my mouth starts to salivate. It is something I simply couldn't live without. So hopefully I don't get a stomach ulcer or something. I saw a few things online that says hot sauce is good for you so I choose to believe that. You are probably wondering which hot sauce is my favorite? El Yucateco Chile Habanero – it can be found at most local grocery stores throughout the United States of A. Try a little or use a lot, the flavor exceeds the heat. It adds that extra, "AY YI YI YI YI" to whatever your desire. So, I use it all time and some people call it insane. For instance, when I ask for "Blazin' sauce, extra wet" at B Dubs, the waiter looks at me like I'm crazy with a dumbfounded look. They always reply…
"Are you sure?"
Obviously I'm sure. I let them know it's not my first rodeo with the sauce. I order it carry-out; I'm not trying to impress anyone. The anticipation builds on the car ride back with that one-of-kind aroma that energizes the soul. I like to enjoy the spicy adventure in the comfort of my living room.
I recommend using hot sauce on just about anything. Hot sauce increases the metabolism and will make the sexiest people even hotter. When you have hot sauce on deck at all times, you are winning all day long like Charlie Sheen. Take Usher's words of wisdom, "Gotta let it Burn!"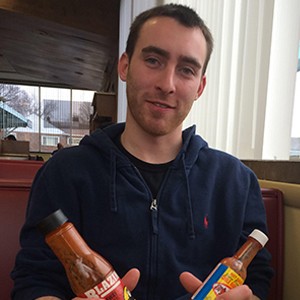 Latest posts by Alex Frick
(see all)