When my son Stephen McNulty died, he was a senior at Cathedral High School. I can't even begin to write about the devastation or heartbreak that occurred. Instead, I want to tell you about the beautiful things that occurred and continue to happen since his death.
After Stephen died, we wanted to do something in his memory on his high school campus. Who knew that what began with a couple of pieces of scrap stone, a prayer and some hope would transformed into a beautiful piece of art with many stories to tell?
Here is one of the many stories. Many people donated to the SKM Memorial Fund at the school. Along with the donations, a sculptor was found at the Indianapolis Art Center, and volunteers stepped forward from the other local high schools, business communities and the larger Cathedral family.
Kids from many of the local high schools spent a better part of their summer vacation working in the heat to sculpt the cross that we named Legacy. The school even added a sculpting class for the first semester of the school year so the students could finish the cross along with the sculptor.
Many people and companies came forward to donate tools, supplies, food and drinks. The cross was completed and dedicated in October of 2006. Students, family members and friends attended the dedication where Fr. Munschower performed a special blessing.
The Legacy Cross has become so many things since its dedication:
A place to pray
A space to reflect
A picture spot to preserve memories
A site to remember those we have lost
A peaceful area
The cross is not only a tribute to our son but for the other students who died while attending school at Cathedral High School. It is a monument that demonstrates the power of prayer and the kindness of people, many of whom I had never met before but are now great friends. The cross has become ingrained in the culture at the school in such a short period of time. We hear stories all of the time of how others have been affected inspired by the mere site of Legacy.
"PROPS" to those who helped me and others to move forward.
-Jacque McNulty, Stephen's Mother
"What you leave behind is not what is carved into stone monuments, but what is woven into the lives of others." -Pericles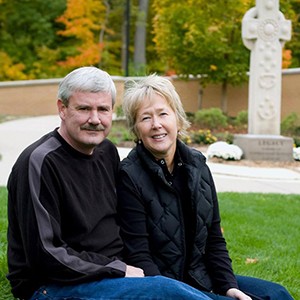 Latest posts by Jacque McNulty
(see all)