I like lists and organization. You know what else I like? March. So here are my 10 reasons why March is the best month of the year! Props to each and every one of my favorite things about March.
International Pancake Day. Who doesn't want a free short stack of pancakes brought to you by the one and only IHOP? Although it did used to be unlimited free pancakes… just saying IHOP…

Daylight Savings Time. Okay springing forward kind of sucks. Like CyberProps Anonymous Nature blogger pointed out, our hangovers will last a little longer this Sunday, but yet, our sun-filled days are longer, the bars are open an hour later, and the warmth of summer is fast approaching! I'll sacrifice an hour of sleep for an extra hour at the bars any day.

It's Officially Spring! Speaking of longer sun-filled days, spring is here. The abominable freezing cold winter is coming to an end and warm, warm, warm is coming our way. Time to come out of hibernation and hit the gym people!

Girl Scout Cookies. These little bundles of joy come to you at the low price of $4.00/box. Who can resist those thin mints and tagalongs?

March Madness. Get your brackets ready, your betting groups organized and hope your team is in shape (Purdue, will you make it to the tournament for me this year?), selection Sunday is coming March 16th!

Spring Break. Watch out Florida, the college kids are coming to town. Hands down some of the most fun you'll have in your four year (five years) reign at your university, Frat Lauderdale, Fort Meyers, and South Padre are 3 of the top places to venture to for students all over the country. Let the beer flow and wet t-shirt contests begin.

Pi Day. Nothing says love like a little 3.14. One of the greatest mathematical contributions to society, I say, let them eat pie.

Spring Training. Baseball is back baby. The season officially begins again in April, but the boys are prepping as we speak (read?) for the 2015 season to start!

Shamrock Shakes. Shamrock Shakes (aka McCrack) can be used as legal currency during March.

St. Patricks Day. I saved the best for last. Hands down my favorite holiday of the year. Who can't love celebrating your heritage with green beer, a parade and your entire Irish family? My mother is hosting a bar crawl people. My mother. There's nothing but love for our heritage on this day.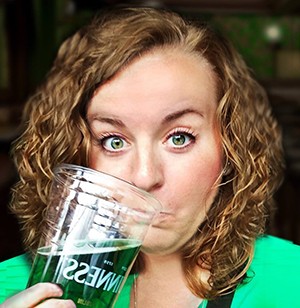 Latest posts by Emily Oskay
(see all)