First we gave props to the best Indianapolis Restaurants, and while we still love and frequent all those places, frankly, sitting is overrated. What's the newest trend in the Indianapolis foodie scene? Food trucks!! The Food Network supports the cause with shows like The Great Food Truck Race and Food Truck Face Off.
Food Truck Fridays on the circle in downtown Indy spurred huge growth in the Indianapolis Food Truck scene. So we wanted to give props to some of our favorite Indianapolis Food Trucks. (This list is limited to what we've been able to try thus far, but Bacon Babes, Nacho Mamas and In A Pita should visit The Precedent on Priority Way so we can try your food too! hint hint.)
Big Ron specializes in all things American. AKA comfort food and the best barbeque sauce native to Indiana. If Big Ron's is in the parking lot, I'm not thinking twice before I head over and buy his BBQ Pulled Pork Quesadilla. It's the anti-health I'm looking for at least twice a month.
I know it's pronounced like "Dare" Pretzel Wagen, but I really want to say "Durrrr" why wouldn't you go get a pretzel from this wagon? German food and Star Wars themed sandwiches? Oddest but best combo of all time! I tried this on St. Patrick's Day near the parade and you can't go wrong with a Ham Solo, you just can't.
It's cupcakes. That come to you. AKA every woman's dream come true! It's a perfect sweet treat to end to complete the perfect life choices you just made at all the other food trucks on the street. Don't miss out!
The Grilled Cheese Spot
I haven't seen this one around town lately, but the last time I did, I naturally ordered The Bomb. It's in the name right? BBQ pulled pork, mac n cheese, caramelized onions and sharp cheddar gooing from the edges of two pieces of bread made it a bomb of flavor in my mouth!
They had me at the slogan, "Love, Peace and Fry Grease"! I had the taco fries, and I can't wait to try the sweet potato next time! You can rarely go wrong with Hoosiers and French Fries but it's even better when it goes so, so right.
Little Eataly – "The Twisted Sicilian"
I'm a huge fan of any and all things Italian after having lived in Florence for a summer. I just love it all! So when this food truck pulled up outside my office building, I went straight for the penne a la vodka and cannoli for dessert. I might as well have been in Sicily or maybe even paradise while enjoying that meal!
Edward's Drive In – "Dashboard Diner" 
I grew up sitting on the stools of this drive-in eating a tenderloin and drinking their famous, and my most favorite, root beer. When I heard they got a food truck, I was even more ecstatic! If you don't try the root beer and a tenderloin, you're missing out on a small piece of what heaven is like.
Mini burgers! Tiny 5'4" me likes tiny foods. And KG Slider Station has all kinds of variety! I personally loved the Marsala sliders (it's that Italian thing again) but what was even better was the sweet corn with some sauce I can't even begin to tell you what is in it but everything delicious. Can't go wrong with sweet corn in the Hoosier state!
Poccadio Mediterranean Moroccan Grill
So I have a small vendetta again Morocco. The whole country. It's irrational I know, but me and my 3 friends got food poisoning in Marrakech while we were there. So for me to go back and decide to eat more Moroccan food was a big deal. Really big. And I'm so glad that re-introduction was with Poccadio! It was absolutely delicious and got me over my bitterness (kinda). I loved the lamb gyro, and I'd eat it again and again! Thanks for such a great way to taste Morocco again!
Scratch truck is more comfort food – burgers, barbecue and bacon marmalade. Yes you heard that right- bacon marm. Nom nom nom. Scratch is one of the best choices you can make when you're looking for wholesome American cuisine on the go!
Normally I'm not a huge fan of Indian food because I'm a wimp and can't eat anything spicy, but I decided to give Spice Box a shot. Didn't regret it for a second! I went for the Bollywood but substituted for a taco because of my wimpy tongue and got a great meal of rice and naan to accompany it! It's a unique taste out of a food truck, you won't regret your choice!
This Jamaican-style food truck packs in the flavor, Mahn. I loved the music, and the buffalo shrimp mac n cheese was just what the doctor ordered. Jamaican me crazy for Taste of the Carribean!
I walked up to this truck and they say they're a Korean, Mexican, Thai, Carribbean fusion. And I was skeptical at first but once I tasted, I could only say they were amazing! A different kind of taco but I'm not mad, especially when I get to eat two of those Korean tacos!
New to the food truck scene. You can find this truck in Irvington every Wednesday night outside the Coal Yard Coffee House.. The burgers are one of a kind, the fries are to die for, and the service is amazing. Whoever thought of mac n cheese on a burger should receive an award… ***"The Beast Mac n Cheese…more like the BEST Mac n cheese!" just one of the many five star reviews on Facebook. ***
Special Shoutout to the ORIGINAL Hoosier Food Truck — Famous (Fat) Frank's at Purdue University!
Still only accepting cash and employing less than sober workers, I can't help but love Fat Frank's. Pile on the toppings on that hot dog, I'll have a Fat Texan please.
Give props to your favorite food trucks by downloading the CyberProps app and propping +FoodTrucks!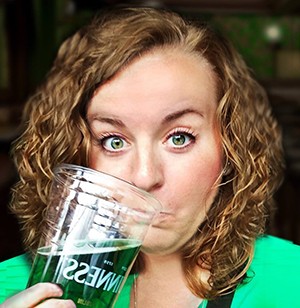 Latest posts by Emily Oskay
(see all)