I use fashion in the loose sense here because we're not talking Giorgio Armani's new Summer 2015 collection debut. Let's be honest, we're not even talking about the sale rack at The Gap. Indy 500 attire takes on a whole new fashion genre I like to call Redneck Couture or Haute de Kentucky. With the combination of Memorial Day Weekend, warm weather, cheap beer, and IRL racing, you better put that cute little black number in the back of your closet and think bigger. Think better. Think denim, think stars and stripes and star spangled hammered.
The Indy 500 is like a free pass to ignore the fine line between trashy and classy and go full on Dirtball Chic. How far you'd like to take this suggestion is up to you. I say go big or go home, but I also never imagined what that meant for the greatest spectacle in racing until I Googled, "People of the 500" for this little blog post and found not just one but several pictures of favorite IRL drivers shaved into men's back hair.
With that alarming realization I decided to instead suggest some of the top places to find 500 fashion around the city and online to prep for the blessed event.
Goodwill – Now a whole props post can be dedicated to Greatwill, but when it comes to the Indy 500, this place is a goldmine for all things America. Sure you have to dig through hundreds of women's blouses to find that denim tassled, rhinestone starred shirt, but it's worth every one of those 299 pennies when you do strike gold.
Value World – See Goodwill, rinse and repeat. But seriously do wash before wearing. I will proudly wear my, "Buckle Up Indiana" hat until the end of time (really how can someone part with that gem?), but not until it's been through the washer at least twice.
Walmart – the Indy 500 is all things Redneck Chic remember? Where else could you simultaneously buy your 30 rack of Natty Lite and a $10 pair of denim overalls?
Amazon – An unlikely candidate but with 2 day prime shipping and an endless database of products across the country, its like the online Webster's of all things America. Whether you want socks, coozies, sunglasses, or a t-shirt depicting Abraham Lincoln riding a grizzly bear while holding an automatic rifle, it's only a search and 2 day free shipping away.
MericaMade.com – my last and, dare I say it, favorite discovery while shopping for my 2015 Indy 500 outfit was this website featuring all things America. Whether you want an American party, a country 'Red Solo Cup' inspired shirt or workout tanks questioning other meatheads if they even lift, bro, MericaMade.com has your favorite American saying printed in several different colors. Personal favorite props goes to the Abraham Lincoln "Abolish Sleevery" tank top because nothing says freedom like Lincoln's gun show.
Whether you're repping 25-year-old Levi denim jorts or the classic American flag bikini, remember, leave your common sense, your pride, and your judgment in the parking lot of Turn 3 because once you enter those blessed grounds, it's a free for all, and everyone's an American on Race Day.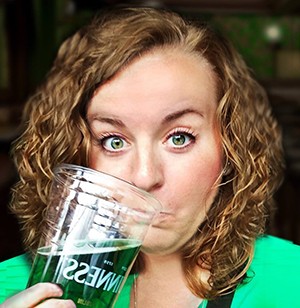 Latest posts by Emily Oskay
(see all)