Did you know 41% of Americans don't use all their vacation days each year? 41%! Do you really like your job that much that you don't want to use all the paid time off they give you FOR FREE? Take a trip! See the world! Italy, Spain, Morocco, Ireland, England, France, Belgium, Switzerland… the list of the places I've seen goes on and on. I want to give props to traveling, specifically, traveling in your 20's. People have given several different props to picking up and moving to a new place on a whim; my passion, my joy comes from something similar, but it's picking up and traveling to those unknown places and experiencing a new city, a new culture, and making new memories.
In a few weeks, I'll make my fourth trip to Europe to visit my sister who is studying abroad in Dublin. Some call it wanderlust, some call it the travel bug, but I like to call it experience. And today, I don't want to go on and on about how amazing all the places are or how much I've grown as a person because while those are true, not many people can relate to that. Today, I'm going to tell you how traveling in your 20's while you're young, carefree, and let's be frank, absolutely broke, is entirely possible. It's the most rewarding thing you can do and is honestly a better investment than half the material things you'll buy. So this is Emily's How-To See the World Without Breaking the Bank.
There are so many different ways to see the world without spending an exorbitant amount of money. Below is a list of a few tips and tricks for getting from France to Italy, Spain to Morocco or even living in Ireland for months at a time FOR FREE. Sound to good to be true? I promise you it's not.
Buy your ticket for the off-season. If at all possible, make that trek across the Atlantic or Pacific, wherever you might be headed, outside of the months of May-August. Your tickets just went down by at least 20% if you did. To get to Europe at the cheapest rate, fly into Dublin. Every time. It's the closest airport to America, and you can utilize RyanAir once you get there to get to your next location. (More on that airline next.)
Use RyanAir within Europe and North Africa. Using RyanAir is kind of like selling your soul for 3 hours, but nothing beats getting from London to Athens for 20 Great British Pounds. You have to jump through a ton of hoops, including but not limited to printing your itinerary in advance, carrying a particular sized and weight bag, and listening to people try to sell you useless crap for the entire plane ride. But, it's 20 dollars. 20 dollars!! I'm pretty sure if the plane was going down and you wanted to live you'd have to give them 5 euro for a life preserver but that's neither here nor there.  It's an incredibly cheap way to fly if at all possible, but make sure you know the rules so you don't get extra fees.
Take the commuter trains whenever possible. These are the "slow" commercial use trains. They take longer, but you can grab one early in the morning for 5 euros, sleep the whole ride, and be at your destination by 10AM. The high-speed trains are great but cost on average of 40 euros.
Try WWOOF-ing. No don't start barking. WWOOF-ing is the World Wide Opportunities on Organic Farms, a trade of working on a farm for free with the tradeoff of room, board, and meals.  These are all over the world, and you can go from farm to farm for free!
Stay in Hostels. They're not scary I promise. I actually quite enjoy staying in hostels because you can meet new and interesting people including but not limited to a guy who quit his job and has $25,000 to blow before moving back to America (note to self, be friends with this guy), a guy who has just spent the last three months in a cave in the south of Spain studying "crystals" (note to self, hide from this guy), and surprisingly, American students from the same college as you on an island with the population of 700! I use hostelworld.com to find the hostels with the best location, security and atmosphere ratings. There are a variety of options ranging from a bed with 16 random people in the room, to female or male only dorms, down to private rooms, but I actually enjoy staying in the big random dorms because you meet more people (and it's the cheapest- usually no more the $20/night).  These places have free internet, laundry, and full-on kitchens! I've even stayed in hostels in America and I highly recommend them. I could never have afforded to stay a block from the beach in Santa Monica or in downtown Chicago otherwise!
It's a short list, and there are so many other ways to save money abroad, but I wanted to end with a little more of my props. Traveling in your 20's sets you apart in the work force, gives you worldly knowledge and makes you more culturally aware. I learned a lot about myself from traveling but I also learned how to be respectful and aware of myself within those cultures. I sat on a rooftop and watched Muslim Moroccans participate in the call bowing to Mecca and chanting; I ate dinner with native Italians, conversed with them in their native language and ate goose liver pâté (not at the top of my recommendation list); I bungee jumped in the Swiss Alps and experienced 7 seconds of absolute free fall (definitely at the top of my recommendation list); and I accidentally crashed an Irish funeral (that's a whole other story). I learned how to get by, to get from point A to B on my own, and I had one hell of a good time in each and every place I went. Props to traveling, all that it's taught me, and the memories and people I met along the way!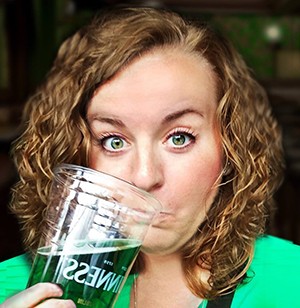 Latest posts by Emily Oskay
(see all)