I've lived In The Annapolis my whole life, and for the longest time, I thought on a regular basis, "I can't wait to get out of here…" But lately, this city is surprising me more and more with the different events they're hosting (Super Bowl XLVI, the Sweet Sixteen, the Final Four and numerous national conventions), the breweries and distilleries they're building and the food scene. Specifically, I want to give props to the NCAA Final Four Indianapolis activities that have been going on around the city in the past week.
This weekend I decided to check out some of these free events. They're free, why not right? I headed downtown to Georgia Street with relatively low expectations and was met with hundreds of Final Four fans literally partying in the streets (thank you open container laws of Super Bowl XLVI). It was the Mardi Gras of the NCAA. Painted chests, dueling mascots and friendly, and occasionally the drunken not-so-friendly, rivalries were rampant in the streets of Indianapolis. It took me ~45 minutes to make it through the line wrapping around the block for Kilroy's only to enter into a bar where Wisconsin fans were literally jumping up and down on the booths screaming their Jump Around anthem. I think I forgot to mention that this was at 4PM in the afternoon.
If that wasn't enough, and believe me I would have been satisfied with watching Wisconsin, Michigan State and Duke fans simultaneously screaming "38-1," at approximately 11PM on Saturday evening, Indy hosted the Capital One Jamfest and brought big names to White River State Park FO FREE. Friday, Weezer and Imagine Dragons, Saturday Passion Pit and Rihanna, and Sunday Lady Antebellum and Zac Brown Band all $Free.99? Count me in. Any park where I can ride a ferris wheel while simultaneously drinking a beer then meander over to watch ZBB from 50 feet away and belt my heart and soul out to Chicken Fried is my kind of place. Even Shaq and Charles Barkley made the trip to Indy to lead a cheer to Jump Around with 5000+ screaming people.
Indianapolis is slowly becoming the event capital of the United States, and I am a proud Hoosier who's going to keep reaping the benefits for years to come. Props to you, Indianapolis, if there's one thing you know how to do, it's throw one hell of a party.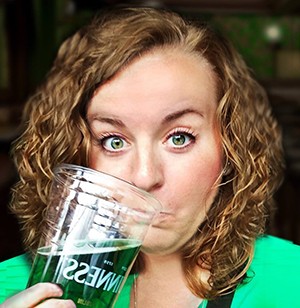 Latest posts by Emily Oskay
(see all)