Today commences the Year of the Farmer at the Indiana State Fair. What that means, I don't entirely know, but what I do know is today commences the greatest three weeks of people watching in the state of Indiana. When we go so far as to welcome the ENTIRE STATE of Indiana to one location, we get the entire gamut of republican gun-slinging conservatives to the liberal hipsters of fountain square with facial tattoos. Anything goes at the state fair. Anything except alcohol that is, so be covert about it.
I'm would argue I'm not your typical Hoosier. I grew up in the city of Indianapolis on the east side. I first stepped foot in a barn sophomore year of college when my sorority had a "barn dance" where we all got hammered and put on the nearest bit of plaid to go to a lean-to "barn" stationed on hole 17 at a country club in Lafayette. Some serious exposure right there. So my biggest insight into rural Indiana life has always been through the Indiana State Fair.
When I go to the Indiana State Fair, I first do the obligatory walk through the animal barns to see the state's largest hog and cows that have had their tails hair sprayed into this fancy up-do that rivals that of Cher in the mid-80's. I finish that trip with a steak sandwich right outside the cow barn while feeling immensely guilty I'm eating the brother of one of the animals glaring at me from 50 feet away. (Seriously, who does that? Steak sandwiches at the cow barn, pork tacos at the pig arena, chicken wings outside the bird barn, like for real? They're sitting right there!)
My next move is to get a lemon shake up and a fried *insert this year's specialty* and look for a bench. Any bench. But preferably one with prime location on the main strip. From there, I watch showgirls in rhinestone studded boots and blinging belt buckles lead perfectly coiffed cows (I'm serious these cows have more luscious locks than I do during these 3 weeks) into an arena to be "shown". I also don't know what that means but I'm assuming if it's anything like The Puppy Bowl, there are a series of tests. I see a John Deere drive down the main drag in an effort to move hay into the horse barn. I see horses trotting through that are bigger than the Anheuser Clydesdales. I see a whole lifestyle I've never known.
And then I see the complete other side of the spectrum. I see men in wife beaters with neck tattoos and pants hanging around mid-thigh (how do they walk like that?). I see women toting 6 kids all screaming for popsicles and ice cream while Momma tells them to shut it or "so help me God…" And if I'm there on a really good night, I see the entire crowd that files into the stadium for the Sting concert happening in about an hour.
The State Fair really brings people together. Whether be it good or be it bad, you can't put a price on the type of entertainment you'll experience while people watching. But if you were to put a price on it, it'd be ~$9 for a ticket plus parking. Regardless, props to the Indiana State Fair. I can't imagine a more interesting group of people being brought together in one place. Either way, you'll enter feeling like a Hoosier and leave with a stomachache because you just downed every type of fried food in sight.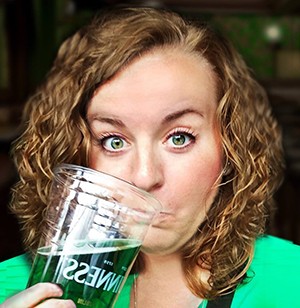 Latest posts by Emily Oskay
(see all)