We all have a specific duo that really strikes a chord in our hearts.  Below are some of the 'Lunch Break Boys' favorites and a little bit about why… Think back to your favorite duo and share with us.
Prop Bless
---
Karl Malone and John Stockton: one, a small, weird looking fellow that appears as though he would fit in with a small group of IT nerds developing software and making extremely dry jokes; the other, a massive mutant of a human, a creature known as the "Mail Man" for virtually delivering basketballs through a hoop while generating around a 6.7 on the Richter-scale.  John is the all-time assist leader, Karl is the second all-time scoring leader, and BOTH are 1 & 2 in all-time turnovers.  They represent all that is good and whole with the game and life.  You're talking about two people that challenged the racial barrier; they were a two-man civil rights movement on the court.  They made us feel comfortable with being human. They showed us that highs and lows, failures and triumphs only breed fortified badass individuals.  Although they never won an NBA championship, they won something more than that: the respect of a nation and one another.  Though not compatible on any level, they made pure basketball magic on the court that would make James Naismith himself catch a chubby. John Stockton and Karl Malone were a match made in heaven, and for that I prop them.
-J.B.
---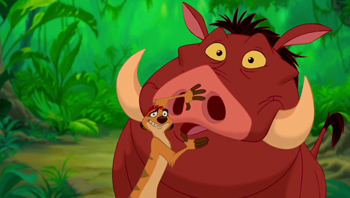 Throughout Disney's immaculate streak of 90's classics, most would agree The Lion King sits atop. Within this classic there is an underrated duo that not only saves Pride Rock, but shows Simba a good time in the meantime: Timon and Pumbaa, a skinny meerkat and a fat warthog. A Tupac and a Biggie. A Rob Dyrdek and a Big Black. Timon and Pumbaa save a dying, distraught Simba after his dad was killed. They brought Simba immediately to the 70's where Simba then grew out his hair and lived by the term "Hakuna Matata." It means no worries. Almost as if they were smoking the finest weed that the African planes had to offer… As if they were in the basement of Eric Forman's house as a camera panned around the circle to one another. Munchies? Not a problem, Timon and Pumbaa would feast on all available insects… some chicken flavored. Timon could sing his little meerkat heart out to "The Lion Sleeps Tonight" while Pumbaa laid down one serious bass line traveling throughout the jungle. Timon wasn't just a one trick pony. He sure could shake it with that self-made hula skirt on. If it weren't for Timon and Pumbaa there would be no Pride Rock. It would still be a communist, Scar-ran mountain with Nazi hyenas on guard.  Instead, the duo took in the King and led him through his rebellious, teenage years. They then went back to fight Scar and the hyenas to regain Pride rock where the duo undoubtedly won the Pontiac Game Changing award. They took out dozens of hyenas using their diverse size and speed. Word spread throughout the African continent quickly not to call Pumbaa a pig. Lord knows, they call him Mr. Pig now. Pride Rock was then reclaimed and Simba became king. This couldn't have been done without the big-hearted, weed smoking, Hakuna Matata-ing, Pumbaa farting duo. Props to the best duo on the African planes: Timon and Pumbaa.
-K.M.
---
One of the more important duos in our 90's childhood lives would have to be my boys Kenan and Kel. I mean what an inspiration these two were showing us that doing stupid shit, producing schemes on top of schemes, and pissing your parents off was cool as shit and would always end up alright. We all know Kel loved his orange soda, but let's not be naive to Nickelodeon's little metaphors that they seem to sneak into every TV series… Kel was a raging alcoholic, guys. That bottle of orange soda might as well have been Bombey Gin because I'm seeing right through this. Why do you think he was so stupid and "clumsy." He was blacked 24/7. Always poppin' in and messing up Kenan when he was just trying to be the best grocer he could be. But just like the kid we all know that hilariously overreacts when you mess with him, Kenan produced the same quantity of humor as Kel in that manner. Equally humorous, they were a true duo bonded through Kel constantly pissing off Kenan's dad, who Kenan potentially never liked… They provided humor for all of us as children. You always tuned in, sang along with Coolio, and felt like you were a part of whatever journey that episode brought. Those boys had it. And they weren't too bad in Good Burger either.
-M.B
---
There aren't many things on this great planet known as Earth that bring me more happiness than what I'm about to share with you. They're brothers and the kings of the Nintendo Empire. That's right, none other than Mario and Luigi! These two bastards changed my life forever a few years ago when I first became familiar with the Nintendo 64. Why I didn't have one growing up is absolutely beyond me, Mom and Dad's fault 100 percent! Now is not the time to be pointing fingers though, now is the time to talk about what these two brothers brought to the world. Mario Kart, Mario Tennis, Super Mario just to name a few off the great list. The one game that is truly near and dear to me and number one in my heart is hands down is the one and only Super Smash Brothers! This game brings out a different side of people when played. Punches have been thrown and blood has indeed been shed, as it should be! If you don't play this game with your whole heart, just go! Countless hours have been invested into that game over the last four years of my life, and my GPA is the proof. I care about this game so much that last month, some brave sole marched into my house and took Smash Brothers from me. What they didn't know is that they took a piece of me with them. I issued numerous threats via social media as well as in person and spent a great deal time investigating, only to come up empty handed. All the great memories of me down kicking fellow competitors straight to hell would not be real. I could go on all day about that game, the bottom line is that without Mario and Luigi, my favorite game of all time would not be real. This one's for you guys wherever you may be. Cheers boys!
Bubby
---
When you think of Michael Jordan, often times you think of his counterpart as Scottie Pippen (rightfully so).  Still one person can be part of more than one great duo.  Take Batman for example.  Of course, he had Robin, but the Dark Knight and Alfred Pennyworth made a pretty powerful couple, as well.  Which is why when I think of MJ, not only does Scottie Pippen come to mind, but so does a carrot-eating SOB named Bugs Bunny.
The Space Jam power couple that included both MJ and Bugs Bunny proves, to this day, to be timeless.  Obviously successful partnerships require a lot of give and take.  This duo proves that.  Michael would save the Looney Toons from the God forsaken planet, Moron Mountain, while Bugs would save MJ from the fiery depths of the baseball diamond and revive his NBA career.
My final take on this topic is a little shot at Lebron James and is another reason why I think Jordan will forever be greater than "The King".   While he tries to build a trio of his own to win games, he can never look back and say, "I had a sidekick of my own."  It takes him over half a season (sometimes more) for his "Big Three" to start cliquing.  Bugs and MJ made it happen over the halftime of the Looney Tunes-Monstars clash in '96.  The pep talk they tag teamed in the locker room will go down in history as one of the classics.  Duos are better than trios, people.
Sure, Bugs might've snagged Michael against his will while he said "Fuck it, we're taking him after this hole-in-one," but it ended up being a duo that will go down in history as one of the greatest.
-Ro Bruh
---
Batman and Robin, the two dudes from Brokeback Mountain, Wu Tang Clan members Ghostface Killah and Raekwon The Chef, Ren and Stimpy, former Indiana Pacer Dale Davis and his 16 inch penis, Peyton Manning and a fucking football, Peter Pan vs. Hook, Luke Skywalker vs. Darth Vader, Lisa Ann videos and adolescent boys (and myself, often), Drake and his feelings, Stone Cold Steve Austin vs. Vince McMahon, etc…so many beautiful duos throughout history. The Yins to the Yangs, the good vs. evil, the duos that will live in eternal fucking glory.  Whether partners or archenemies, these duos are forever etched in the stars of our great universe.  I could go on all day about the various pairs of illustriousness, but there is one true duo that is immortally cemented as GODS above them all….
The greatest duo of all time is STEAK AND A1 SAUCE.  Nothing in earthly form can replicate wiping a bloody, medium-rare steak across a plate of mouth-watering, don't-waste-a-drop A1 Steak Sauce and viciously ripping it apart with your bare hands like the savage you are.
Honorable Mention– Tom and Jerry
– Your humble narrator, G.G. AKA Tterrag Namdoog AKA Grimey G
Latest posts by The Lunch Break Boys
(see all)